At the beginning of this season, I got the idea to cycle one large loop of old railroad bed before the leaves turned in the fall and the snow closed in. I love setting goals on the bike; It seems like this happens on a micro and macro level constantly. This became my goal for the 2020 season: a 380-kilometre counter-clockwise loop that I planned to tackle in three days.
I called my friend Tanner Pare, a cyclist and photographer from Peterborough, to see if he was up for the challenge. It was an easy sell. The Choo Choo Loop was born, a homage to the railway lines I will be riding.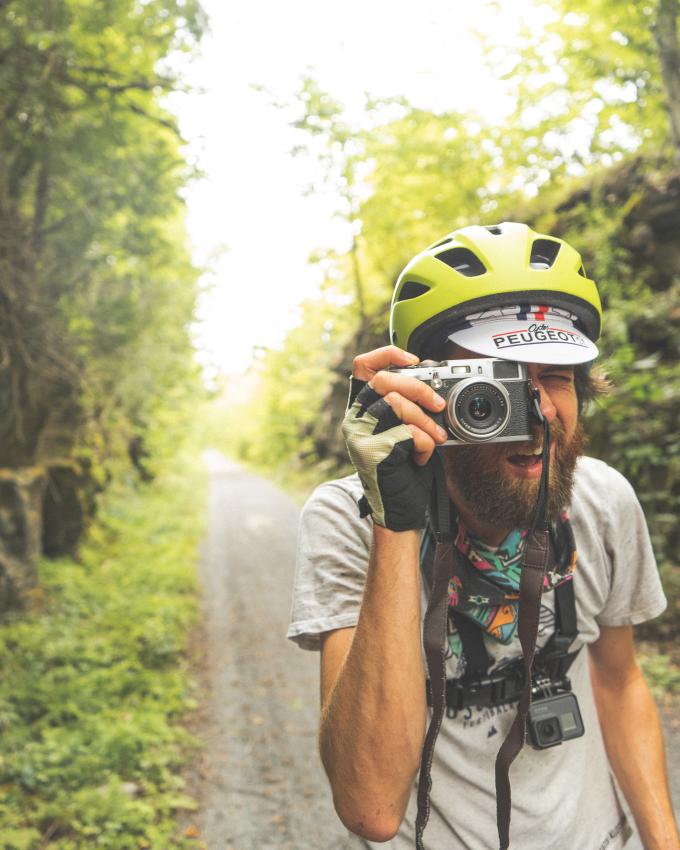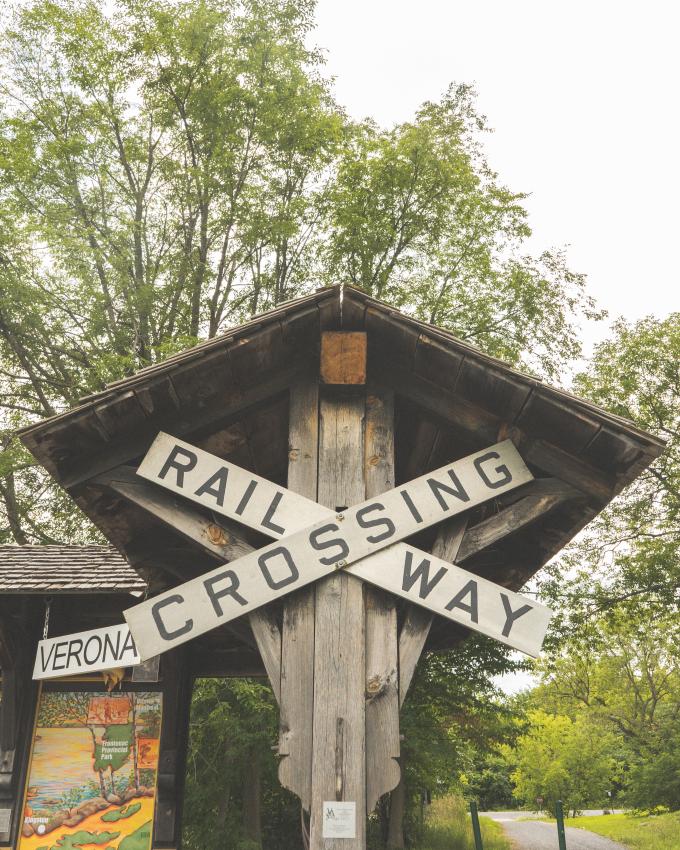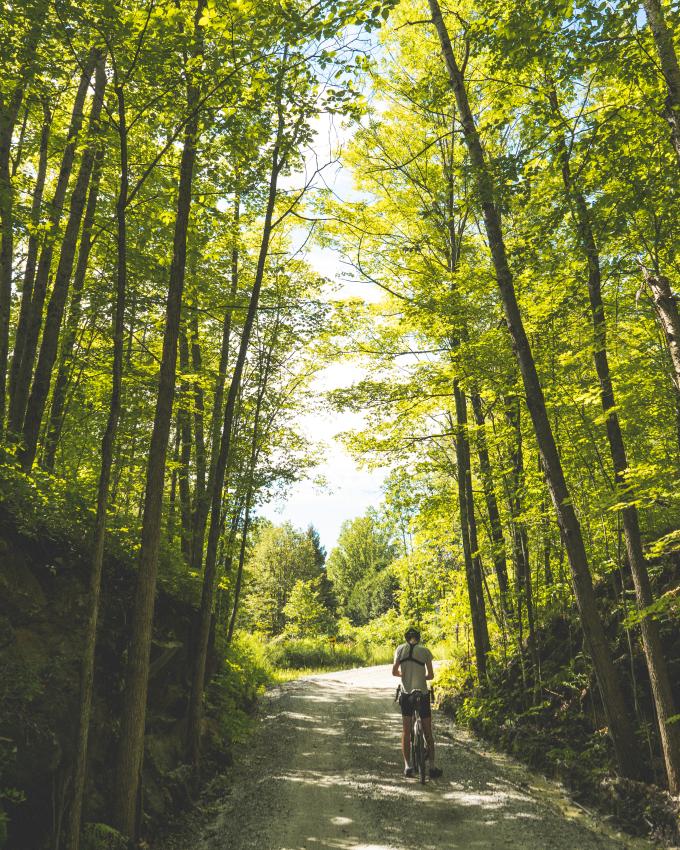 Our loop started in Sharbot Lake and followed the K&P Trail south to the Cataraquai Trail, which we followed all the way to Smiths Falls on day one. The next day, we joined the Ottawa Valley Recreational Trail (OVRT) from Smiths Falls to Renfrew and then headed south on the K&P again to Calabogie for the second night. On the last day of riding, we stayed on the K&P until Sharbot Lake.
Save for a few kilometres here and there, we rode almost exclusively on old rail beds. While we did this loop in three days, it should really have been spread out over five so we could explore the region more fully. You can see our route map here.
Rolling on the Rail Trail: Cycling the K&P from Sharbot Lake to Calabogie
Day One
We start the day right with coffee in 1 Sharbot Lake, then follow the K&P trail to the Cataraquai Trail all the way to 2 Smiths Falls to sleep in a caboose!
Sharbot Lake
I live just west of Sharbot Lake so we started the day with a slow cruise across the Trans Canada Trail to Cardinal Cafe – a beautiful church-turned-coffee shop with fresh baked treats and rich, flavourful coffee that was the perfect pick-me-up to start the day.  From here, we followed the K&P trail to the Cataraquai Trail, which enters Frontenac County just west of Harrowsmith and will carry you all the way to Smiths Falls. There is a parking lot located just off Highway 38 south of Harrowsmith and it's a great place to begin your journey north or east.
About the area
Sharbot Lake
Frontenac County
From Toronto: 290km • 3 hr 20 min
From Ottawa: 120km • 1 hr 35 min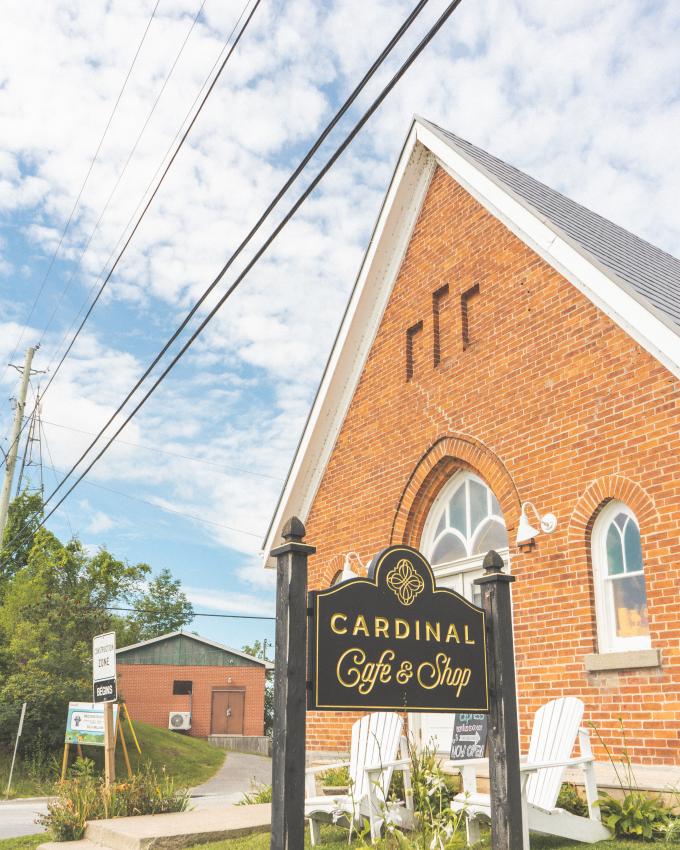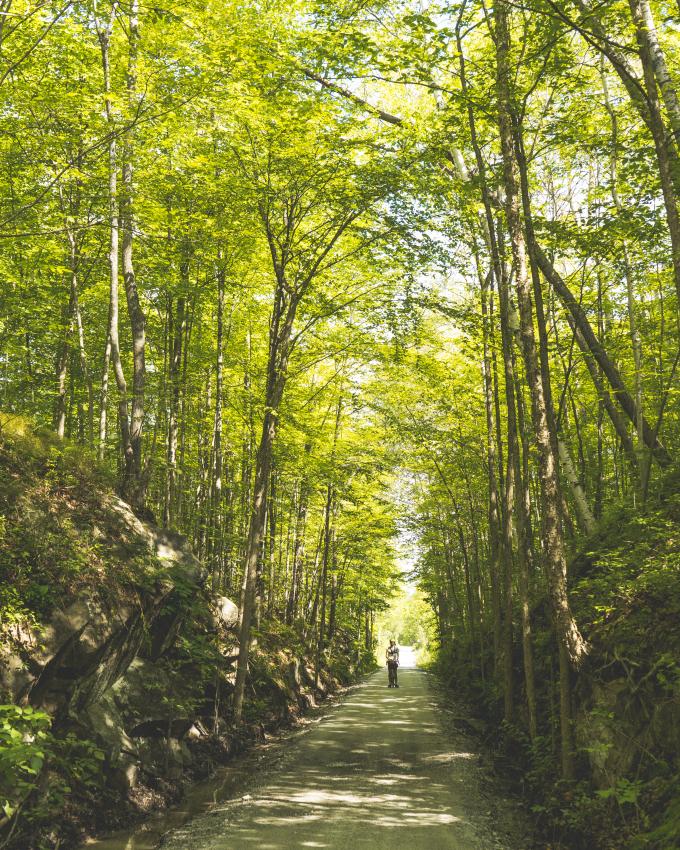 The condition of the trail changes between Harrowsmith and Smiths Falls quite a bit, with nice hard-packed sections, grassy parts, and some slightly overgrown rough sections. The trail gets rougher the further east you go, but I wouldn't let that discourage you if you have a decent size knobby tire. It's not advanced terrain by any means and it's really beautiful and not to be missed.
In the springtime the forests, fields, and marshes come to life and the soundscape can be deafening in a profoundly beautiful way. The summer brings hot days that are perfect for long swims in the lakes and rivers the trails cross, while the fall brings breathtaking vistas of fall colours, golden light, no bugs, and cooler temps that are absolutely perfect for cycling.
Day Two
We leave Smiths Falls and get on the Ottawa Valley Recreational Trail, stopping in 3 Carleton Place and 4 Almonte for treats (and vodka!). We ride through an old-growth forest near 5 Arnprior and end the day in 6 Calabogie.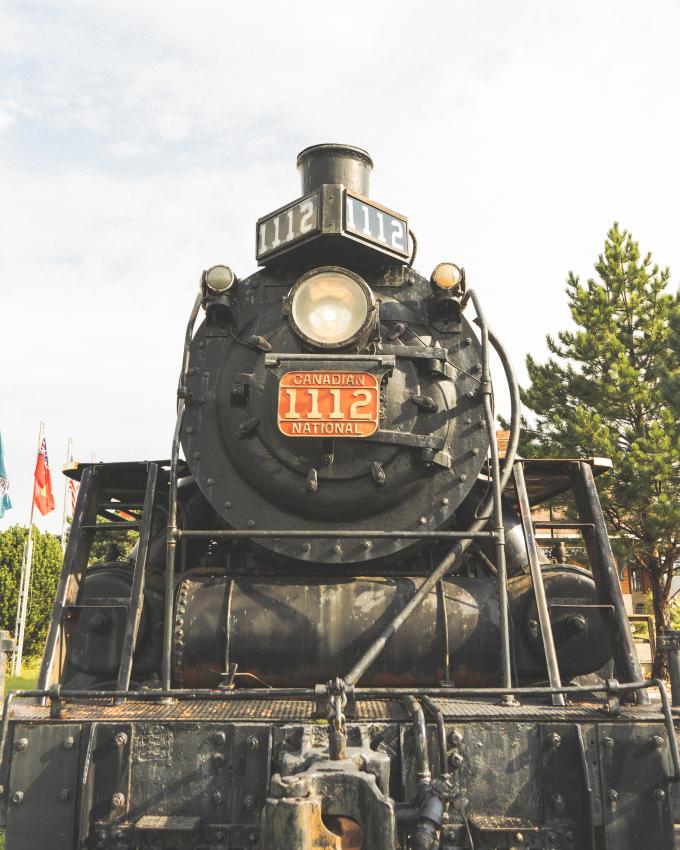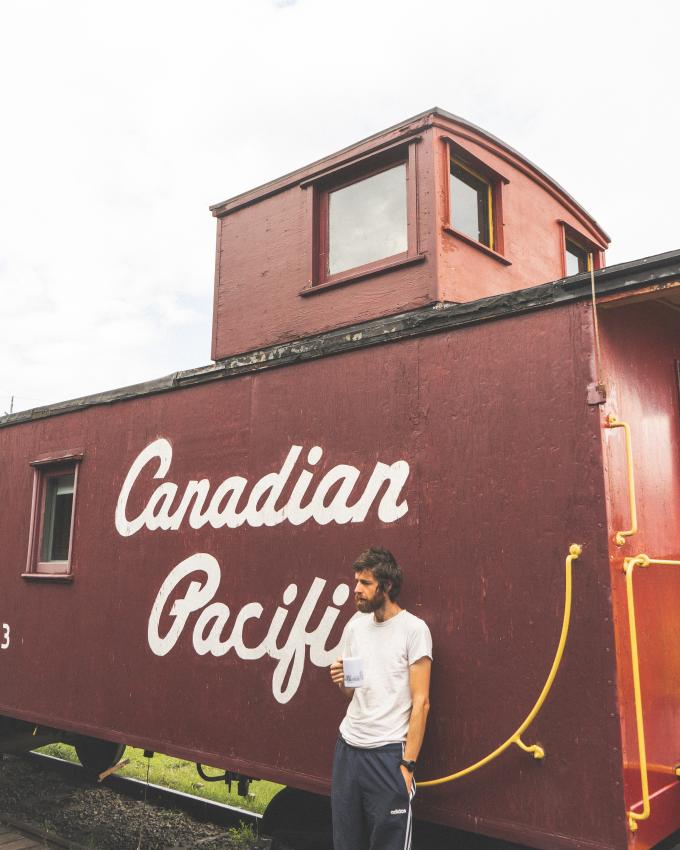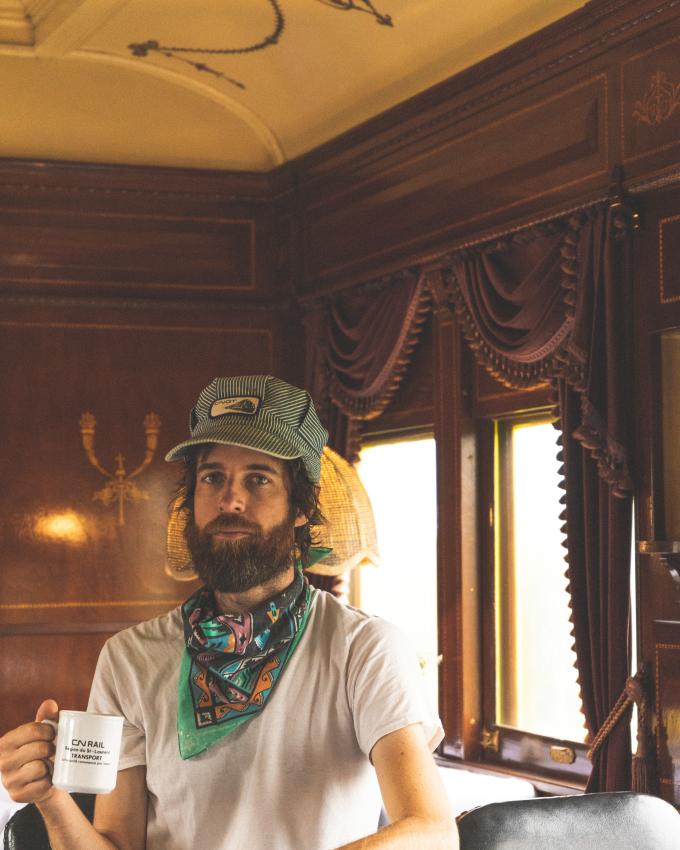 Smiths Falls
About the area
Smiths Falls
Lanark County
From Toronto: 340km • 4 hr 17 min
From Ottawa: 80km • 1 hr 10 min
Since Smiths Falls was once a hopping railway hub, it's only natural that it's home to the Eastern Ontario Railway Museum. And what's more unique, you can stay overnight in one of the Museum's caboose cars. Knock that one off your bucketlist!
We spent our first night in one of the Railway Museum of Eastern Ontario's fun cabooses, and the next morning we took our sweet time touring the museum and drinking coffee until finally rolling out into a misty morning to the OVRT trailhead. This is the trail we'd spend most of our day on – a cycling superhighway that would take us all the way to Renfrew.
It was nice to see how many people use this trail, and the perfect surface and lack of elevation had us reaching Carleton Place in no time. Here I found a new pump track to take my bike on which really got the blood pumping.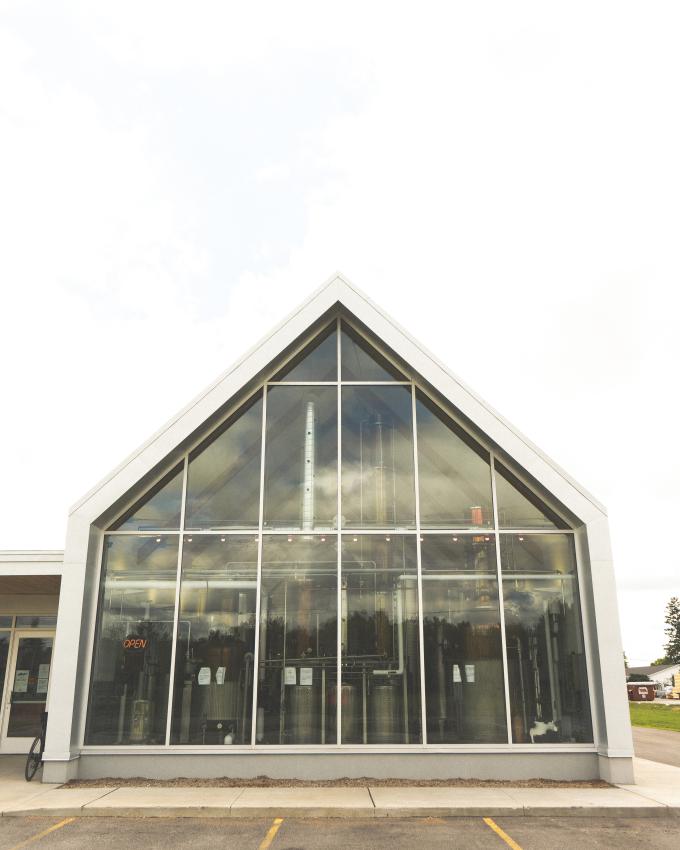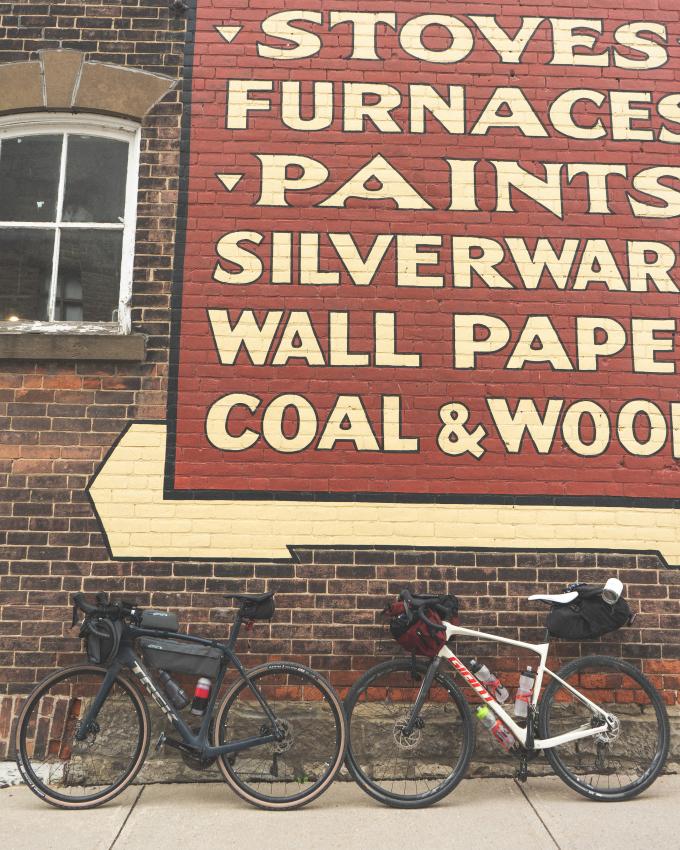 Almonte
About the area
Almonte
Lanark County
From Toronto: 360km • 4 hr 30 min
From Ottawa: 52km • 50 min
Dr. James Naismith, the founder of basketball, was born in Almonte, where the original homestead still stands today. Visit the Dr. James Naismith memorial statue on Mill Street, and get your picture taken with this Canadian legend.
We snapped a few pictures downtown and then pressed on to Almonte where we grabbed lunch at North Market Café and they did not disappoint! It was so good that I picked up extra food for the trail that afternoon.
Continuing our edible discovery, we pedaled over to Healthy Food Technologies (HFT) and Dairy Distillery, two of the quirkier stops on the loop. HFT makes crazy donuts but with half the fat of a regular donut. Seemed to us like the perfect bike snack, so we loaded up.
Across the street is Dairy Distillery, where they make vodka, or "Vodkow", as they call it, out of unused milk sugar. The space they've built is worth the trip alone.  I bought a bottle of the Vodkow for post-trip and also some of the hand sanitizer they recently started making.
We had 133-kilometres to put down that day, but the nice thing about the OVRT is that every 20-kilometres or so you hit a town. It makes for a nice way to break up a longer ride and grab some food, and it seemed that as soon as you left a town, there was another one to look forward to – the water tower for each town on the horizon was a beacon calling us forward from one spot to the next.
To make up some time we coasted through Pakenham, although I'd been warned that there was excellent ice cream in town, but in the end, landed in Arnprior. We detoured off the trail into Gillies Grove, an old-growth forest in town that hosts the tallest (47m) white pine tree in Ontario! It was beautiful to spin through the cool, shady forest amongst these giants which felt like being in coastal British Columbia.
Calabogie
We continued north to Renfrew where we rejoined the K&P Trail and sailed the last 30-kilometres to our home for the night: Calabogie Peaks Resort. After a quick check-in and some super hot showers, we hit Canthooks Restaurant with carbohydrates on our brains. Burger time it was, and what better beer to wash it all down with than a pint of local Whitewater Brewery Farmer's Daughter Blonde Ale.
Once we got back to our rooms it was lights out and a deep sleep, resting up for the 100-kilometres back home.
Day Three
We fuel up in Calabogie before hitting the most remote part of the K&P Trail yet. We end the trip back in 1 Sharbot Lake for a drink and a swim before heading home.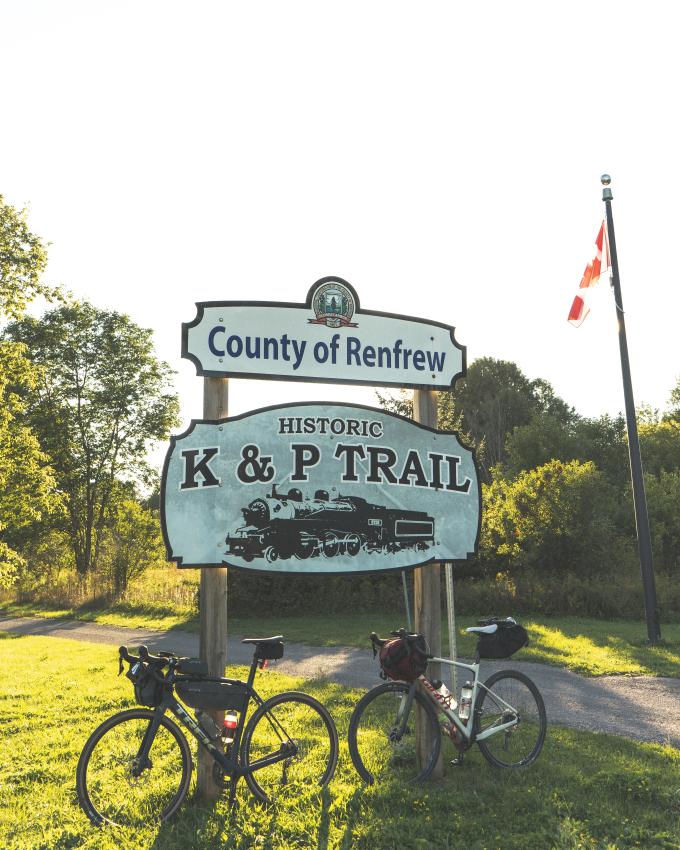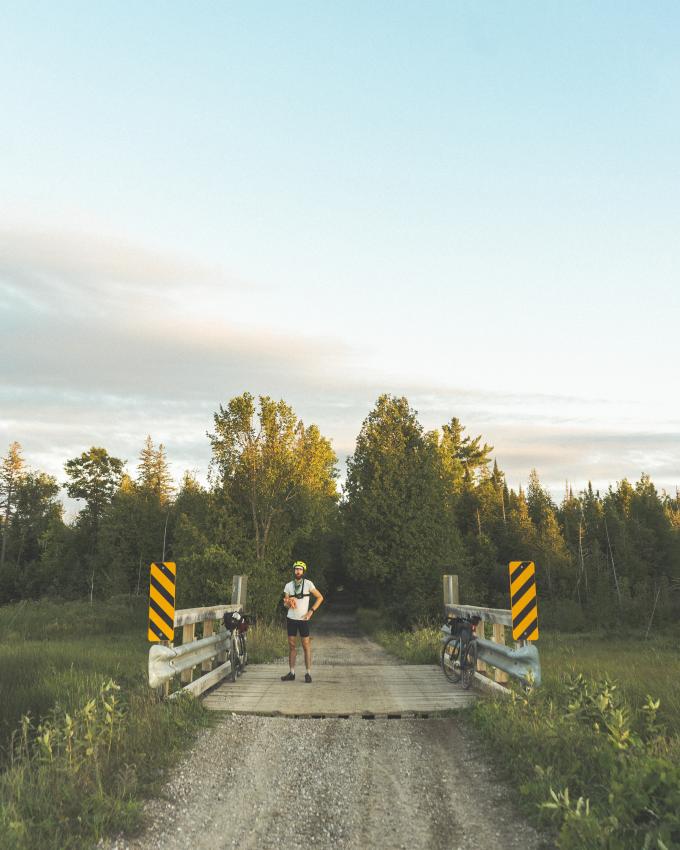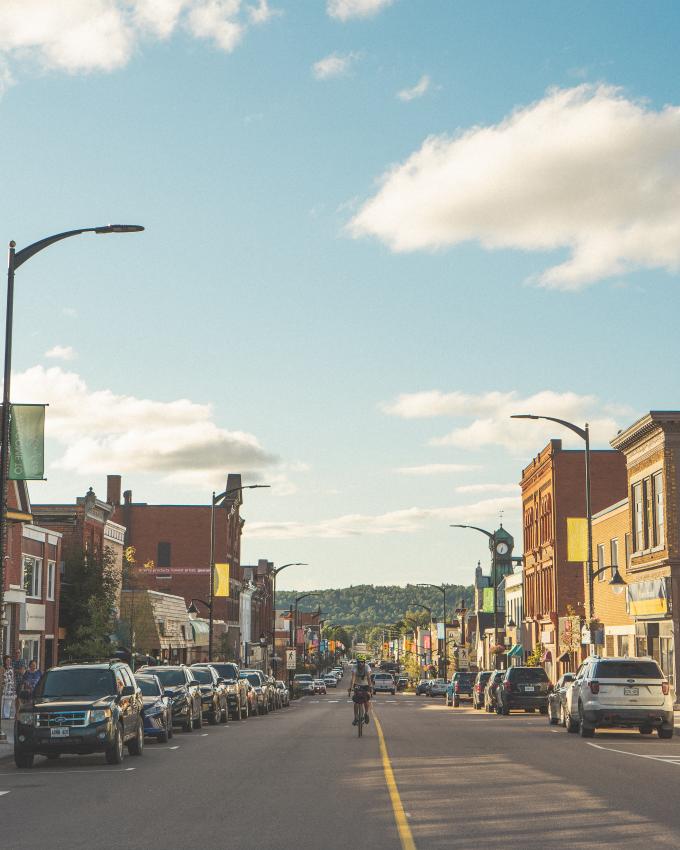 We knew the third day was going to be a lot of biking; the maps showed it as 100-kilometres of almost entirely trail, with not a lot of villages to pass through, and some remote riding. We biked over to Redneck Bistro in the town of Calabogie to fuel up for the day. The place was hopping on Saturday – the parking lot loaded with motorcycles, and the food quickly proved why it was so popular.
About the area
Calabogie
Ottawa Valley
From Toronto: 372km • 4 hr 40 min
From Ottawa: 102km • 1 hr 15 min
Referred to as 'the funnest small town in Canada' by CBC's comedy series, Still Standing, Calabogie more than lives up to the name. From indoor activities like restaurant hopping, to outdoor adventure in watersports, backwoods play, and skiing Ontario's vertical drop at Calabogie Peaks, there's plenty of fun to be had at this outdoor paradise.
Tanner and I both ordered flatbreads to eat and then wraps to take with us on the trail, knowing that there wouldn't be a food stop until Sharbot Lake, about 80-kilometres later.
The K&P in this region was magical and felt very coastal BC to me. The trail was in great shape, and it was quiet in the woods on this gorgeous Saturday. We found a few supreme places to pitch a tent for the night if wild camping is your jam. This section of trail felt so removed from civilization yet wasn't far off the beaten path.
The K&P kicks and pushes you back out onto paved roads until you get south of Mississippi Station, where you can get off the clean and simple roads and back onto the soul-fortifying, gravel grinding trail to glory. We ran into a group of four guys heading north, loaded down with gear. One of the group had recently finished a loop called the Log Driver's Waltz, an 800-kilometre trip through the Ottawa Valley and now on the bucket list for us.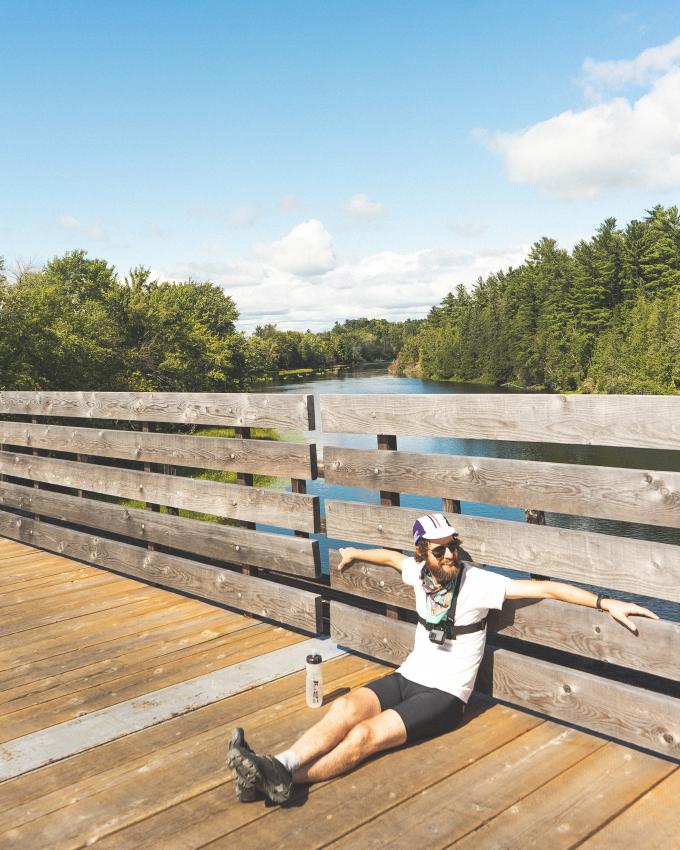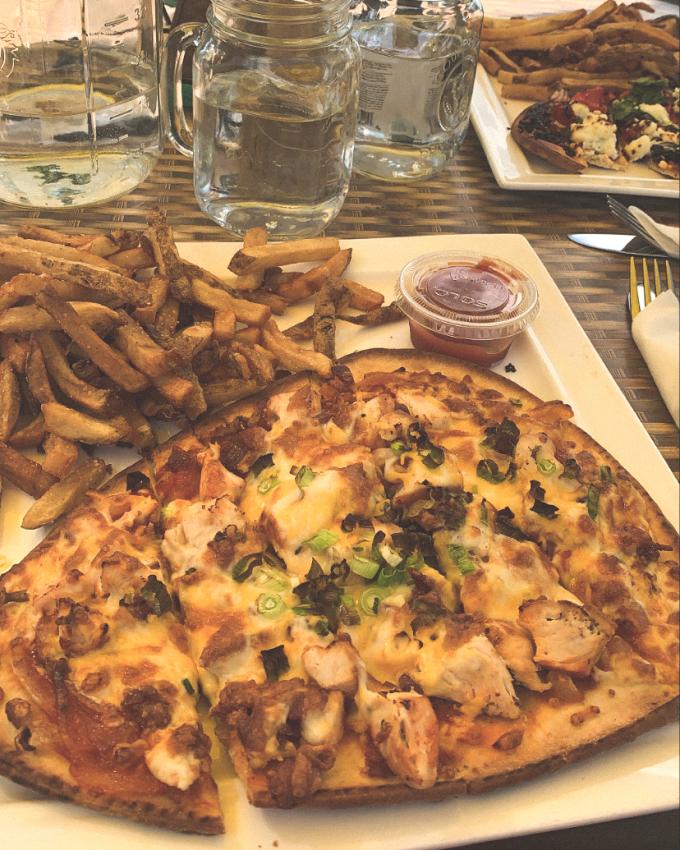 We made one last stop in Sharbot Lake before the last leg home. A quick drink and a swim at the beach as the sun was setting was a glorious way to cap this loop off. The water perked me up for the ride back to Mountain Grove and we took it all in at a mellow cadence, reminiscing about all of the things we'd seen over the last few days, munching some snacks, and daydreaming about the next adventure.