If you never thought that a simple road could spark your curiosity, initiate historical debates AND bring out your inner geologist, then you have obviously never been introduced to Letterkenny Road.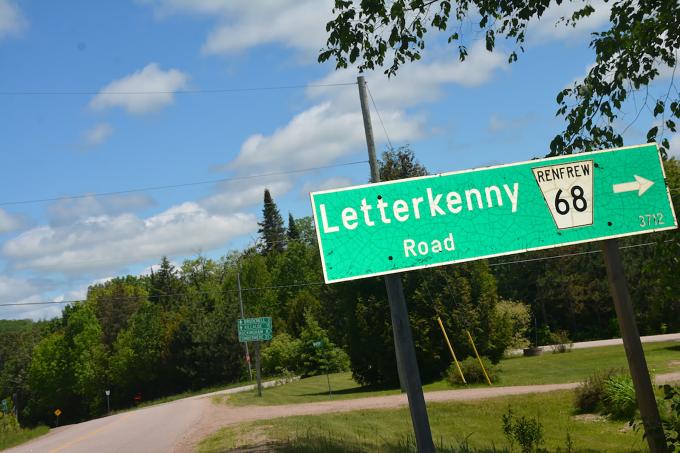 Turn onto Letterkenny Road and let the adventure begin. Letterkenny Road stretches approximately 18 kilometres and is full of gems, literally and figuratively.
Connecting the hamlets of Brudenell and Quadeville, this fully paved settlement road winds around pristine lakes, and leads you to a prized rose-quartz quarry. Some even say an American gangster called Letterkenny Road home.
 Road signs often go missing in this territory, as fans of the popular TV show with the same moniker look for a unique souvenir from their visit. In fact, it's gotten so bad that officials are considering selling road signs to prevent future theft.
 Although it's tucked down the backcountry, Letterkenny Road is full of life, and that's particularly true from spring to fall. Cyclists training for their upcoming race share the road with packs of motorcycle enthusiasts. And while cyclists may have a harder time making it up some of the steep hills, they all come for the same thing: the ever-changing terrain and the breathtaking scenery.
 That's probably one of the best parts of Letterkenny Road; it is what you make of it. Challenge yourself on the terrain or let something motorized lead you to some of the most magical, and controversial, places around.
Rockhounds Welcome
Heading from Brudenell, begin your journey at Gorman Lake, where a natural playground has been installed by the township for kids of all ages to enjoy. Even the adults can take a break on the hammock or take time to learn about the trees and foliage that surround the lake. The best part? It's completely free and the perfect spot to launch a kayak for some additional exploring or fishing.
Moving southbound, traverse up steep inclines and through historical farmland first settled by European forefathers. You won't find bumper-to-bumper traffic along Letterkenny, but be mindful of the curious wildlife that feel entitled to the road and who may jump out to greet you.
There's also a few farmers along this stretch of road, so make sure to give them a friendly wave as you safely pass by.
There will be no glitzy signs indicating you are passing by Beryl Pit quarry heading to Quadeville on Letterkenny. You will have to go to Kauffeldt's General Store downtown Quadeville to pay for a day pass and to receive exact coordinates. But it is certainly worth the effort.
The Beryl Pit was formed some 1.28 billion years ago, and rockhounds have the opportunity to uncover coveted rose quartz stones during a self-guided tour. According to those who believe in the healing powers of crystals, rose quartz can be used to attract love, so make sure to bring home your find for your sweetheart.
 You can easily spend the day here searching for the perfect mineral, so bring some bug spray and wear sunscreen - it can get hot out there! Did you know that if you visit the Museum of Nature in Ottawa, you will see a rose quartz in the minerals' museum from the Quadeville pit?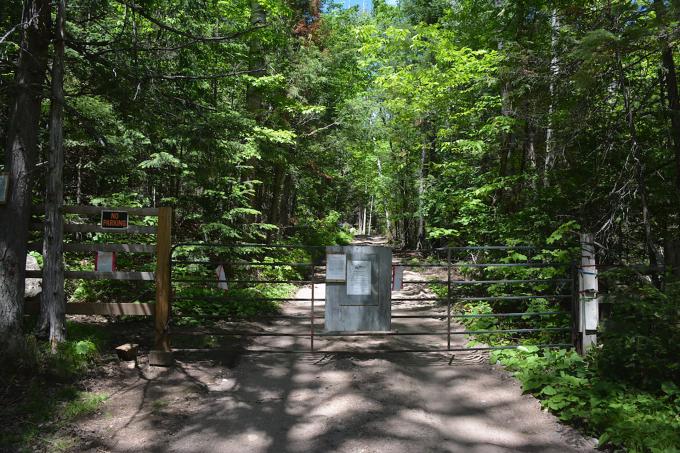 Cheesy Reward
 Once you've had your fill of geology, history, and scenery, head back into town and treat yourself to one of the best chip trucks around. Country Fried Chip Wagon offers an array of delicious chip truck staples like burgers, wraps and poutines. You can't miss this popular pit-stop - it's located at the intersections of Letterkenny Road, Quadeville Road and Addington Road.
Since you've spent your day along Letterkenny, treat yourself to the popular Letterkenny Wrap. It's a crispy chicken wrap with a spicy zing; a perfect tribute to the uniqueness that is Letterkenny Road. If you're starved, make it a meal and ask to "poutinize" it. The homemade coleslaw, served alongside gravy-smothered fresh cut fries and cheese curds, will top you up.
If you don't want your adventure to end, pack up your meal, rent a kayak or canoe at Madawaska River Rentals across the road and continue along Addington Road until you reach Lower Madawaska Provincial Park. It's the perfect place to access the river.
 Some people joke that if you blink, you'll miss it. But whether you call it Kwade-Ville or Quad-Ville, this tiny hamlet is full of life, especially along the 18 kilometres that is Letterkenny Road.