In the depths of winter, after travelling what seemed like an endless stretch of road lined with snow-capped trees, we wandered off Trans-Canada Highway 7 at its junction with Highway 62 and found Madoc, a small hibernating town tucked away from the bustle of city goers speeding between Toronto and Ottawa.
Don't be fooled by first glance: Madoc isn't just a pit stop to refuel on gas and caffeine, it's a community with deep roots and a gritty gold rush past that's worth exploration.
While Madoc's humble main street may be somewhat sparse in late January, the silhouettes of friendly faces dance behind the frosted windows framing the historic downtown. Stay here long enough and behind the quiet storefronts you'll likely overhear stories told by old-timers – who grasp warm coffee with calloused hands that have known years of manual labour.
These are the stories of days gone by when locals hunkered down through treacherous snowstorms – eating only what was left in their cupboards; a testament to the strength and tenacity passed down in these parts for generations.
My mother, daughter and I spent the day here to check out what still lingers of the prospecting fever that existed in the community where Ontario's first goldrush hummed.
But first, breakfast!
To fill us up for a morning of discovery, we found ourselves a no-nonsense breakfast at Burnside's Casual Dining, run by three generations since 1937. Fluffy, buttery eggs, peameal bacon, deep-fried home fries and a side of toast – exactly as you'd want. And, of course, coffee, enjoyed in the warm and inviting atmosphere made possible by a fire blasting in a wood-burning stove, accompanied by the chatter of locals in the dining room.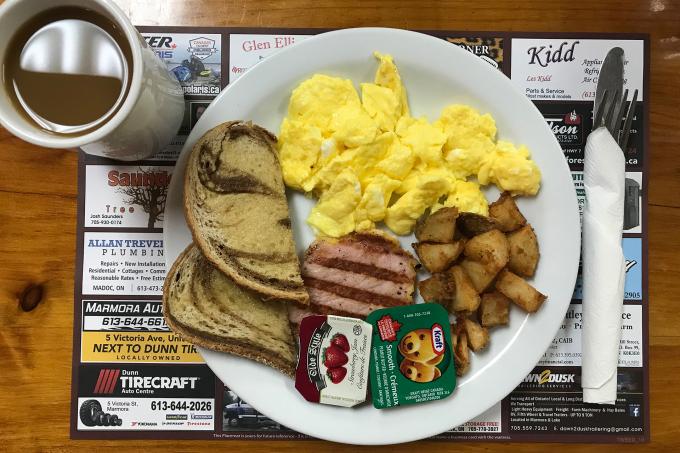 Insider's Tip:
Pick up some delicious butter tarts made by Paradise Tarts, a company from Stirling – just 20 minutes from Madoc – on display at the cash on your way out. We're so glad we did! And if you're on your way through Madoc during cottage season, head next door to Tom's Cabin for a summer favourite: ice cream. We hear they make a mean banana split.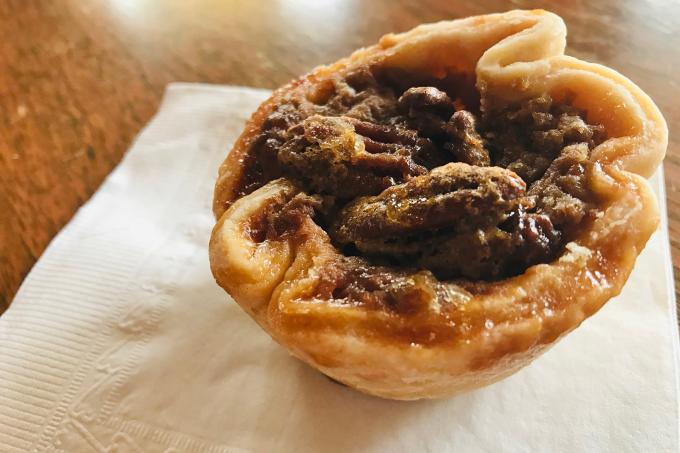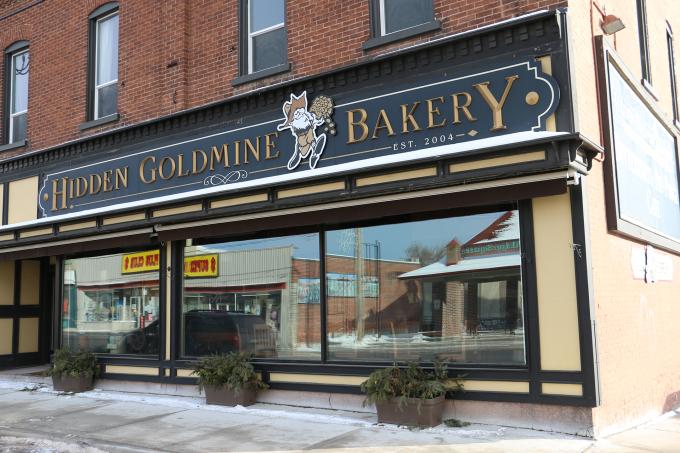 Though Madoc's humble beginnings were stimulated by mills and ironworks, the discovery of Ontario's first gold mine in nearby Eldorado in 1866 established Madoc as an industrial centre and triggered the province's first gold rush.
You can get a flavour for Madoc's gold rush history at this quaint bakery nestled in a historic building on Madoc's main street. The smell of fresh baking and coffee brewing will warm you from the cold and welcome you after a long drive.

Insider's Tip:
The bakery closes each year in January. Plan your trip so you can enjoy this culinary treasure of Madoc.
With our bellies full, and coffee in hand, we went for a wintry walk at the O'Hara Mill Homestead and Conservation Area. The best part about visiting the Conservation Area: it's free! Donations are accepted to help with the site's operation.
You can step back in time in the serene setting laced with walking trails where "nature meets history." The site is peppered with the historic structures that make up the pioneer homestead.
When we were there, my mom, daughter and I were alone. It was serene and peaceful. It's a perfect area for kids, dogs and a family outing that sparks imagination and intrigue of pioneer life in the 1800s. We were entranced by the cascading water rushing underneath an ice crust formed by days of sub-zero temperatures beside the O'Hara Sawmill.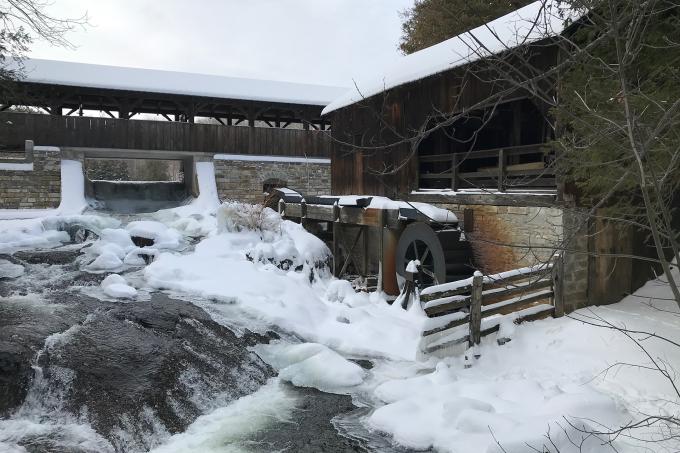 Fun fact: The O'Hara Sawmill, built by James O'Hara Sr. in 1850, is still located on its original site. The sawmill is an example of "Frame Saw" technology. Its large wooden frame stretches the saw blade taut, while the frame and the blade are driven up and down by waterpower. The O'Hara sawmill is believed to be the only water-powered frame saw left in Ontario and the only working one in North America.

Insider's Tip:
Except for special events, facility rentals and educational programs, the buildings at the homestead are closed during the off-season. But that doesn't stop you from hopping out of your car and having a quiet winter walk among the trees to enjoy a site steeped in history. Pick up a grounds map for an overview of the homestead site and a short history of each building, so you can learn about the homestead even in the off-season. Grab a walking stick at the front gate, too. It makes you feel like a vagabond explorer.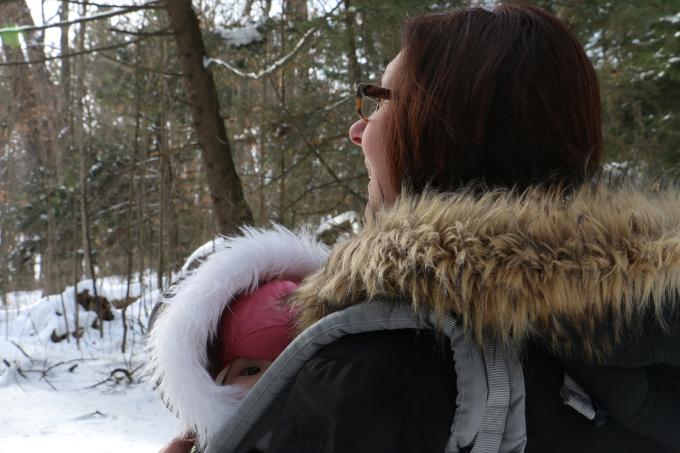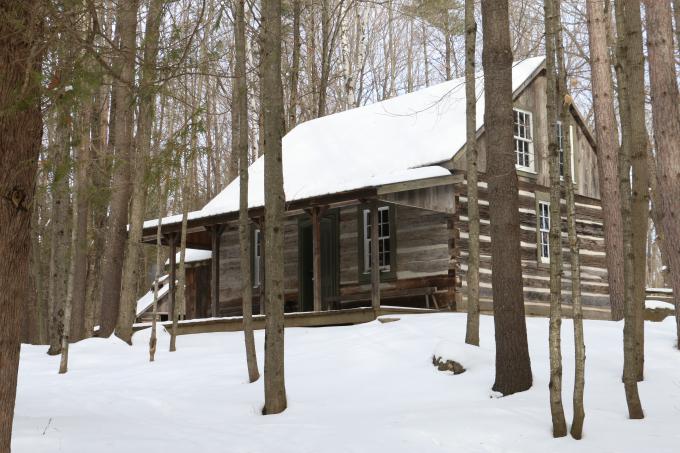 Parched after a long walk in the woods? How about a pint to quench your thirst? You're in luck. Just minutes from O'Hara Mill is 7/62 Craft Brewery and Taproom, a new craft brewery in Madoc.
It's the only craft brewery in the immediate area. Two passionate guys – brew master Al Shaw and business manager, Scott Williams – opened 7/62 in the fall of 2019. Its name is drawn from Madoc's long history as a rendezvous point for weary travellers to recharge, and 7/62 is keeping that tradition alive with its taproom open for beer lovers to gather. It's a brewery where craft is just as important as community.
Brewing fresh batches of beer two times a week, 7/62 is quickly gaining popularity in the local area. The steamy windows inside – caused by the beer brewing process – juxtaposed against the cold outside is sure to warm your soul.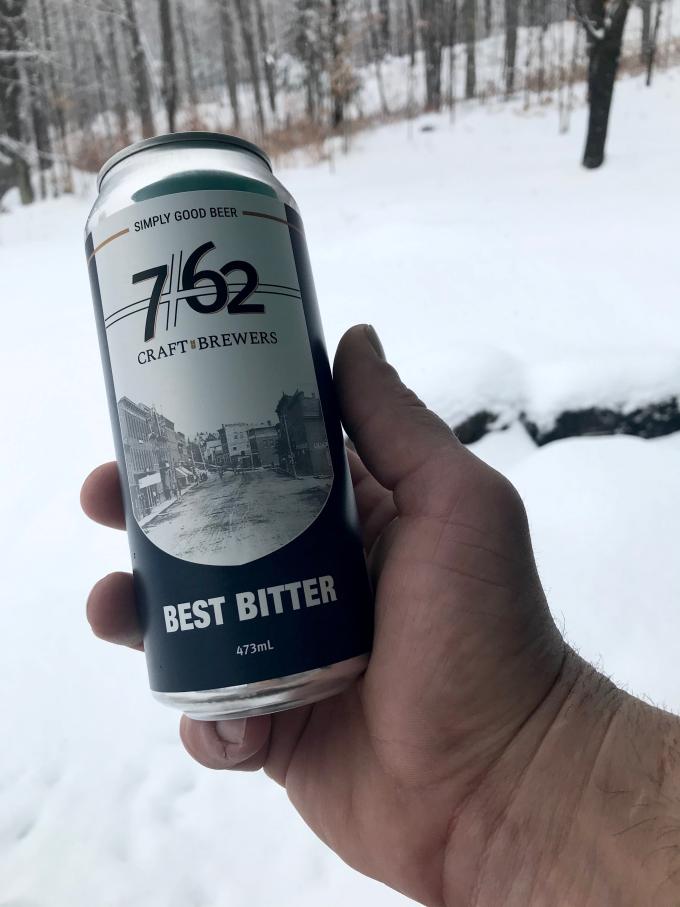 Sit down over a sampling of their fresh brews and taste their unique tasty bites. The Bavarian Style Soft Pretzels and the Taste of Hastings Cheese Board – featuring locally produced cheeses – won't disappoint.

Insider's Tip:
7/62's signature bitter, Al's Best Bitter, already has a cult following. It's got a unique bite with bold body. It's a favourite. Still new to craft beer, or need something on the lighter side? Try the Little Irish Red Ale, an approachable light, crisp beer with subdued complexity that will get your taste buds singing.