Have you ever wandered through an older building and felt the hair raise on the back of your neck, and not been sure why? It may be you are sensing something that others aren't, some spooky aftereffect from a historical wrongdoing or the ghostly pining of a disgruntled spirit.
Many small communities in Ontario's Highlands have hundreds of years of history with their own fair share of ghostly happenings and unexplained occurrences. It may come as no surprise to hear that each October these communities offer spooky walks and ghost tours to share their supernatural experiences with others.
Feel shivers creep down your spine with one of these ghostly walks in Ontario's Highlands. Be warned – these experiences are not for the faint of heart….
Wander through this historic 1860s museum for a ghosst tour you will remember for years to come. Listen as an interpreter shares ghostly tales of paranormal events and ghostly sightings at the museum over the years. Tickets must be ordered in advance here. 
How: Book a ticket through Eventbrite.
When: Oct. 11 and 12, 2023, from 7 p.m. to 9 p.m. or by appointment
Cost: $10 per adult, $5 per child (12 and under)
If you love being scared this is a must-attend event in Haliburton Highlands! Take a walk (or run) through a haunted forest and raise money for charity at the same time. This event is not for the faint of heart or young children who are easily scared (not recommended for under 10). 
How: Pay at the door at 1043 Turntable Drive, Minden
When: Oct. 13 to 15, 2023 from 7 p.m. to 9:30 p.m.
Cost: $3 donation to charity
Get goosebumps with these spooky tours that take you through Smiths Falls' historic Heritage House Museum. Learn all about ghost sightings and other creepy trivia that has been gathered by the museum. Wander through this historic building's haunted rooms which will be lit only by candlelight. Please note pre-registration is required for these tours.
How: Book a ticket through Eventbrite.
When: Oct. 20-21 and 27-28, 2023 from 7 p.m. to 9 p.m. or by appointment
Cost: $10 per adult, $5 per child (12 and under)
There will be plenty of ghostly tales to shiver about during this 90-minute outdoor walk through the historic town of Perth. This was, after all, the town that was the site of the last fatal duel and has ghosts aplenty that are rumored to still wander heritage buildings. This walk will be led by local historian Susan Code McDougall and is suitable for those ages eight and up. Pre-registration and ticket purchase is required.
How: Visit the Perth Visitor Information Centre at the Perth Museum or click here to purchase tickets. 
When: Oct. 26 to 28, 2023 from 7 p.m. to 8:30 p.m.
Cost: $10 per adult; $5 per child; $25 per family (up to two adults plus children)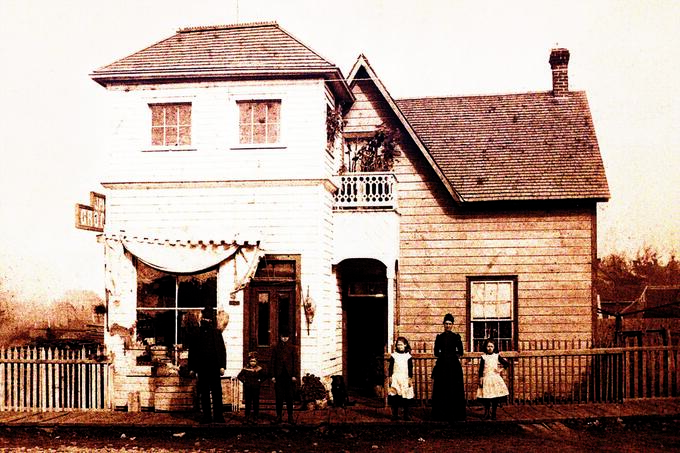 This self-guided walking tour of Carleton Place's creepiest spots could keep you up at night. After more than 200 years of history this community has some hotspots on the paranormal scale. In fact, there have been so many stories shared of ghostly experiences here that the experts at Ottawa Paranormal Research and Investigations have conducted their own research to verify some of the haunted sites on the tour. You may want to take this tour during daylight hours (just in case).
How: Download a copy of the walking tour here 
When: Whenever you are feeling daring!
Cost: FREE!
Do you love being scared? This fall you can thrill with terror as you tiptoe through a creepy haunted house, waiting for the next ghostly event to scare you even more. *The Kiddie House features no animatronics and no live actors.
How: Visit 12 Selkirk Street 
When: Oct. 27 to 31, 2023, Kiddie Hour 12 p.m. to 3 p.m. and Haunting 5 p.m. to 10 p.m.
Cost: Non-perishable food item donations
Both young and old will love this fun Halloween event! Get dressed up as a witch or wizard (or in a Halloween costume) for a walk through the downtown. Live music, games, tricks and treats will be also be happening.
How: Visit downtown Arnprior
When: Oct. 28, 2023 from 3 p.m. to 6 p.m. for Witch Walk; After Party starts at 6 p.m. 
Cost: FREE! Non-perishable food item donations accepted
Expect the unexpected for this spooky event at the Haliburton Royal Canadian Legion while enjoying an all you can eat "fangtastic" feast while enjoying performances that include live music and a mentalist. Win a prize for the best and creepiest costume!
How: Visit the Royal Canadian Legion in Haliburton
When: Saturday, Oct. 28, 2023 from 6 p.m. to 12 a.m.
Cost: $75 per person (must be over the age of 19 to attend)
Dress up as the undead and join in the Zombie Walk through downtown Perth. This event starts at teh Crystal Palace in the downtown core and continues through the downtown. This is a fun, family-friendly event for all ages!
How: Be at the Crystal Palace at 5 p.m. in costume
When: Oct. 29, 2023 beginning at 5 p.m.
Cost: FREE!