Hastings County has everything you need for a fabulous road trip – good food and drink, geological treasures, scenic bodies of water, and lots of activities to keep you busy for days on end. The deep lakes and meandering rivers invite you to explore by canoe, kayak, or SUP, and swimming holes tempt you to dip a toe (or more) to savour every last drop of summer.
Follow our two-day itinerary or use it as a base to create your own awesome adventure in Hastings County.
2-day Sip, SUP, and Swim in Hastings County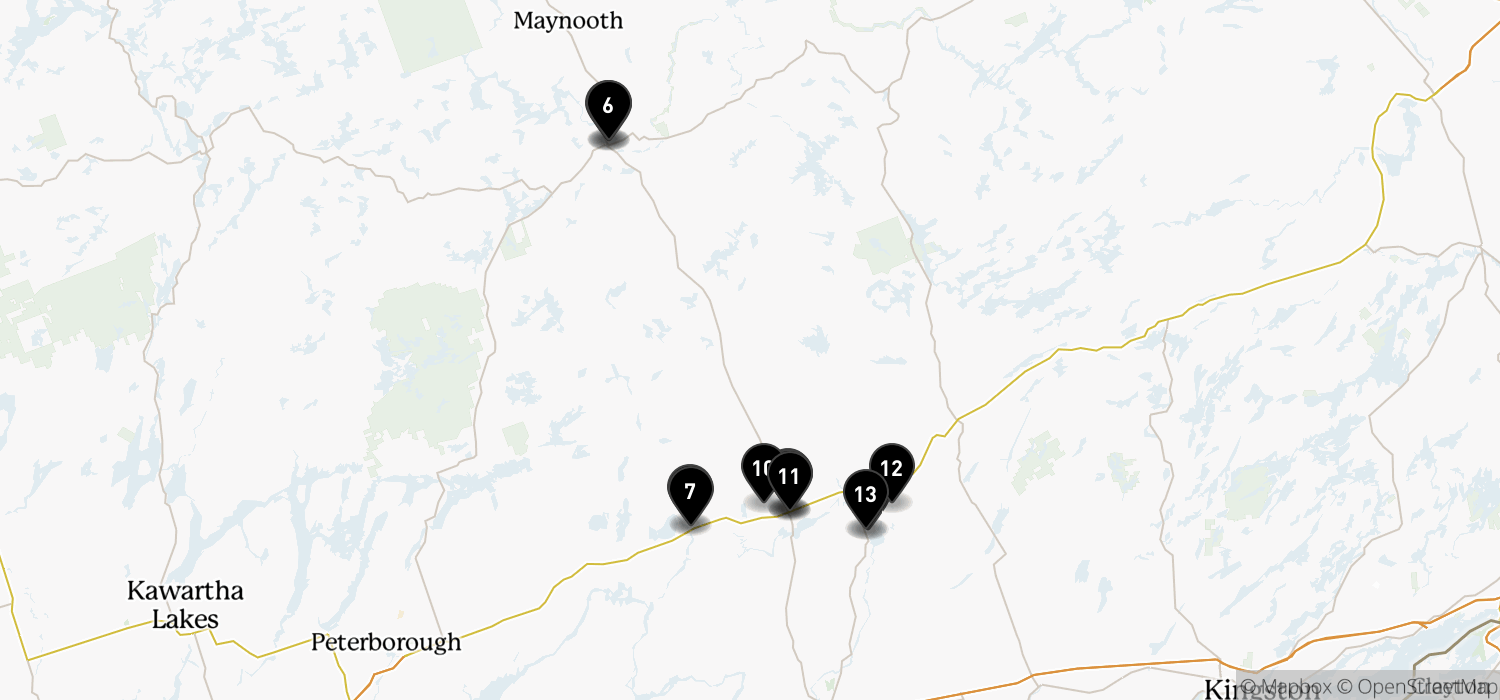 Day One: Sip
Start of Day One
Start Here: Tweed
Tweed is just the right size if you love small towns. Big enough, but not too big to have lost its small-town charm. Explore the area's food and drink options, unique to the region.
What to do here
About the area
Tweed
Hastings County
From Toronto: 220km • 2 hr 30 min
From Ottawa: 190km • 2 hr 20 min
Tweed is home to North America's Smallest Jailhouse, with just 3 cells to hold the local criminals. While it eventually closed to lack of crime in the area, today it is home to the local Visitor Information Centre. You can still visit though and play criminal for the day, taking pictures behind the bars.
Time Spent Here: Plan for an hour or more to spend at the winery, more if you want to picnic on the grounds.
20 km • 15 mins
Next Stop: Madoc
There's more sipping to be had in Madoc! Only a 15-minute drive from Tweed, Madoc is another cute town you'll want to explore. Ask a local for the background on the community's fascinating gold rush history.
What to do here
About the area
Madoc
Hastings County
From Toronto: 210km • 2 hr 30 min
From Ottawa: 195km • 2 hr 20 min
A trip to Madoc isn't complete without a stop to the Hidden Goldmine Bakery for a delicious cinnamon roll or butter tart. Get a flavour for Madoc's gold rush history at this quaint bakery nestled on the historic main street.
Time Spent Here: Plan on an hour or more to wander the downtown and stop for a pint or two.
20km • 15 mins
Next Stop: Springbrook
You'll have to zoom in on your map to find Springbrook. Located about 20-kilomteres southwest of Madoc, this community is so small you may miss it. Still worth a visit!
What to do here
Swing past Kings Mill Cider to sample a flight of ciders and try one of their wood-fired pizzas (they even have a gluten-free option!).
If you haven't already filled up thus far on your trip, this is the place to stop. Springbrook Diner serves up homestyle dishes just like your mom used to make.
Make this your last stop for the day so you can pop some of your finds in the refrigerator! Pick up water buffalo meat, cheeses, or even gelato from the Ontario Water Buffalo Company to sample flavours unique to Hastings County.
The former grist mill at Kings Mill Conservation Area was the reason this area was founded as a conservation area, and today it's a popular place to stop for a picnic or a stroll.
If you love everything apples, The Apple Store at Cooney Farms is a must visit.
Time Spent Here: You could spend all afternoon at Kings Mill Cider, but if pressed you could compress this leg of the trip into a half-day.
10km • 10 mins
Settle in for the night at Marmora & Lake Inn B&B and know you are in good hands here. 
Day Two: SUP and Swim
Enjoy breakfast at the inn before heading out for your day. Bring your swimsuit, because you'll need it for the rest of the day's adventures. Before you leave Marmora, swing past Marmora Mine to check out the cool former iron mine and snap a few pictures (direct access to the mine is not available for safety reasons).
87km • 15 mins
Next Stop: Bancroft
Beautiful Bancroft is a roughly one hour drive from Marmora and the drive is a straight shot north from Madoc. Stop at Steenburg Lake Public Beach for a dip to cool off before continuing north.
What to do here
Book a SUP, canoe, or kayak rental from Bancroft Go Green and you can put in to the York River right there at their docks. Spend the day out on the water and SUP and swim your heart out.
Before or after your paddle you can grab a bite to eat from local favourite, For the Halibut, situated right next door to Bancroft Go Green.
Quench your thirst with a brew from Bancroft Brewing Co. or a bite to eat to accompany it from the Bancroft Brew Pub.
Feed your inner artist by browsing the Art Gallery of Bancroft – their exhibitions feature excellent artists and artisans from around the area.  Their on-site gift shop sells many of their unique works.
Eagle's Nest Park has a lookout that's one for the books (and your Instagram page).  
About the area
Bancroft
Hastings County
From Toronto: 245km • 2 hr 50 min
From Ottawa: 220km • 2 hr 35 min
Time Spent Here: The York River will keep you enthralled for a half day or more, but keep your plans flexible so you can spend as long as you like on the water.
End of Trip