If there's one thing we can agree on it's that few of us will turn down an opportunity to see a waterfall. Whether it has something to do with the mesmerizing whitewater cascade or the white-noise that comes with it, a waterfall is a universal attraction. It can be the reason for a hike or it can be something wonderful that happens unexpectedly.
It's the 'highlands' in Ontario's Highlands that makes our region the perfect spot to find an awesome waterfall. This summer, wander our round-up of wild and wonderful waterfalls in Ontario's Highlands.
Remember to be cautious when approaching a waterfall or whitewater area. Stay safely distant from the water and pay attention to your surroundings.
Connect to the Waterfalls
If you're looking for a unique and intimate waterfall connection, Karen Moon Beam in Haliburton Highlands offers a Spirit of the Waterfalls series that helps visitors to connect to waterfalls, plants, trees, stones, and crystals. Beginning at the Gaia's Den near the south entrance to Algonquin Park, visitors are invited to join Karen for a guided shamanic journey hiking or horseback riding to explore private waterfalls. With this moving experience, Karen helps visitors to "disconnect to reconnect" for a mystical adventure in nature. Book this experience or get more information by calling 705-448-1346.

What to Bring:
For this experience bring a bathing suit and towel, insect repellant, camera, and water. Dress comfortably for hiking. Don't forget your spirit of adventure!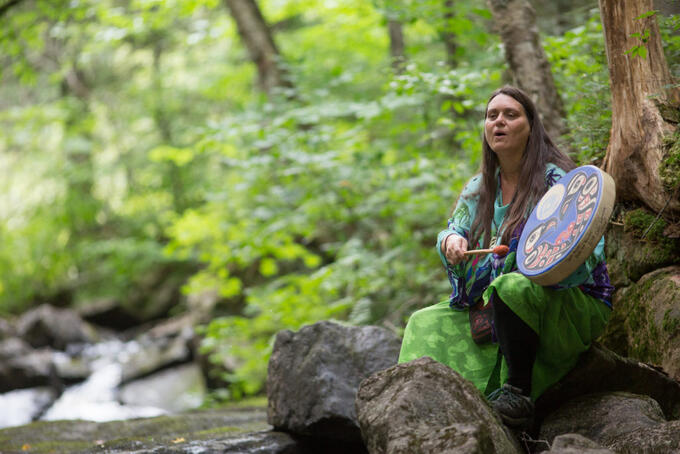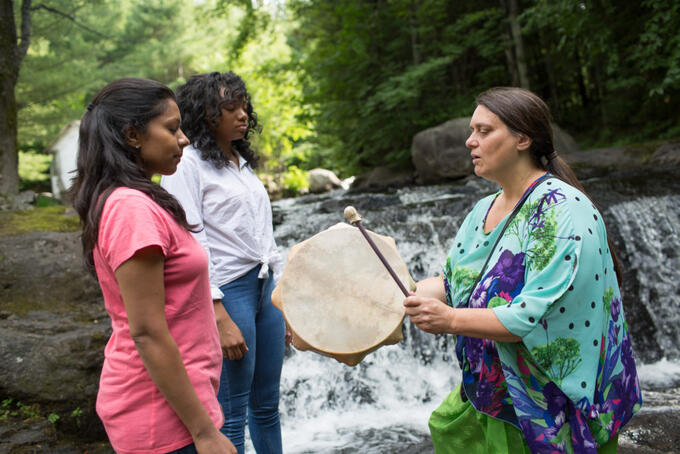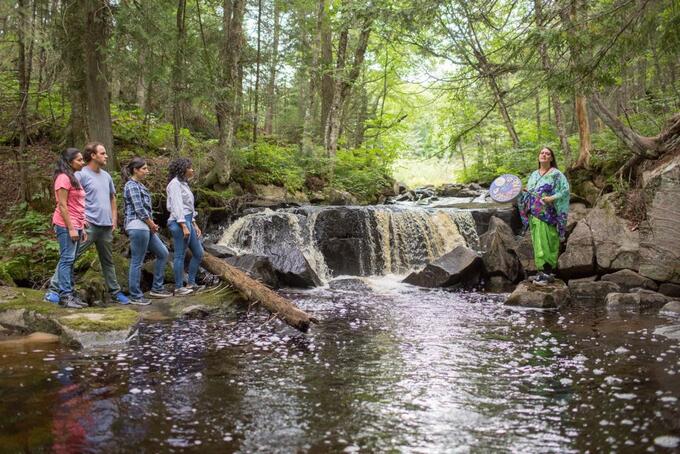 Haliburton Highlands
This location is named as one of the top 10 waterfalls in Ontario, and deserves its reputation as a stunning waterfall to visit.
Location: Oxtongue River-Ragged Falls Provincial Park, Haliburton Highlands
Picnic Lunch: Pick up a gourmet, handmade pizza to go from Pizza on Earth on your way to the falls. While you're there say hey to their wood-fired pizza oven, affectionately named 'Etna.'
These falls involve a two-kilometre hike but will be worth it in the end. Part of the York River, High Falls in Haliburton Highlands are part of Algonquin Park but the trail is located in Dysart et al and the falls can be viewed from there.
Location: Dysart et al
Picnic Lunch: Pick up a gourmet salad from AM/PM Outdoor Gourmet in Harcourt.
This isn't quite a waterfall, but a fun piece of local history. The Hawk Lake Chute is 220 feet long, built in the 1860s and rebuilt in 2005. Originally the log chute was used to move logs down the river, and today it's the last one of its kind in the province. Parking is available at a small parking area adjacent to Log Chute Park.
Location: Stanhope, Haliburton Highlands
Picnic Lunch: On your way to the chute detour through Carnarvon and pick up a couple of hungry man sandwiches from The Mill Pond Restaurant - their chicken pesto is especially tasty.
You can see more than one waterfall on the Burnt River! The main attraction, Ritchie Falls, is just a short walk away from the Haliburton County Rail Trail. This would be a good place to stop for a picnic while cycling or hiking the trail.
Location: Ritchie Falls Rd., Haliburton Highlands
Picnic Lunch: You'll have to get to Molly's Bistro & Bakery early, but it will be worth the effort. They close at 3 p.m. and are renowned for their breakfasts (don't worry, their lunches are fantastic, too).
These falls are located between Haliburton, Dorset, and Minden on the Kennisis River. The river was once used to move logs downriver and there is a concrete sluiceway visible here. There are trails, a picnic area and washrooms available here.
Location: Highway 35 at Halls Lake, Haliburton Highlands
Picnic Lunch: A Highlands sandwich from Boshkung Brewing Co. (Social) will be a nice treat after viewing the falls. Add a flight of beer to complete the meal.
Hastings County
Bring your camera for this one, folks. This is an impressive waterfall found on the York River where the river drops approximately 10-metres. There is a dam here that maintains the water level on Baptiste Lake.
Location: Baptiste Lake, Hastings Highlands
Picnic Lunch: If you are a fan of fish and chips, For the Halibut Fish & Chips are well known for their homestyle fish and chips and other chip truck fare.
Here is another one located in a provincial park (this one is non-operating). The chutes can be reached by making a roughly one-and-a-half-kilometre hike that is entirely worth the effort. Here, the York River drops roughly four-metres in stages. Please note the entrance to the park can be tricky to find.
Location: Egan Chutes Provincial Park, near Bancroft
Picnic Lunch: The homestyle food at Eagle's Nest Restaurant in Bancroft will be a lovely reward for your hike in to the chutes.
This is another waterfall gem that's worth the hike! Part of the Gut Conservation Area, this waterfall is created by the Crowe River and  traverses roughly 200 metres. The falls run down a large gorge that's more than 30 metres high and up to 10 metres wide.
Location: Gut Conservation Area, Apsley, Ontario
Picnic Lunch: Known as a place to get really good food in the area, The Monarch and the Milkweed will surprise you with how cute their spot is, and how good the food. Pro tip: don't leave without a glazed doughnut. 
This waterfall is small, but cute, and while you're there you can take a tour of the O'Hara Mill Homestead and come away richer for the experience.
Location: O'Hara Mill Homestead, Hastings County
Picnic Lunch: When you're in Madoc a must-stop for food has to be Hidden Goldmine Bakery. Not just for baked goods, this local favourite has a full menu (pro tip: try one of their famous paninis).
Lennox & Addington
Located on the Skootamatta River, these falls have been altered with the addition of a concrete dam, but are still fun to see. Parking is available on Flinton Road for the Flinton Conservation Authority and the falls are only a short walk away.
Location: Flinton Conservation Area, Flinton
Picnic Lunch: Stop at nearby Addison's Restaurant's for some hearty homestyle fare like club sandwiches, cheeseburgers, and a traditional Reuben.
Lanark County
Take a stroll along the Riverwalk that runs along the Mississippi River to get a close-up view of Almonte's iconic waterfall.
Location: Downtown Almonte, Lanark County
Picnic Lunch: Lounge on a phenomenal patio at the Barley Mow or Joe's Italian Kitchen for an amazing view of the falls while you dine.
These are more like rapids than a waterfall, but there is a "fall" at the end and the view is stunning. These falls are also one hundred per cent accessible, and can be viewed right from your car. Bring a lawn chair and sit on the shores of the Mississippi River for a cool afternoon.
Location: Pakenham, Lanark County
Picnic Lunch: Just a short walk from the rapids is  Scoops  if you're looking for a sweet pick-me-up after you dine.
Ottawa Valley
There are five "chutes" located on the Bonnechere River in Renfrew County, with the First Chute (Bonnechere Falls) being the largest. There is no easily accessible parking here.
Location: Thomson Road, Horton
Picnic Lunch: Stop at the famous Wes' Chips in Arnprior on your way to the falls and see what has made Wes' chips so renowned for more than 50 years.
The Fourth Chute is located beside Bonnechere Caves and is a great place to see the caves (if they are open, check ahead) and then stop for a picnic afterwards.
Location: Fourth Chute Road, Ottawa Valley
Picnic Lunch: Fifth Chute Coffee in nearby Eganville will fix you up for a lovely meal to go. Be sure to order a sandwich or something that comes served with their renowned sourdough bread! We also hear their ice cream sammies (an ice cream sandwich made with cookies) are delicious, too.
Located in the heart of downtown Renfrew, this waterfall is impressive and easily accessible. Make the short walk on the swinging bridge that crosses the Bonnechere River. Parking is available behind the McDougall Mill Museum near the swinging bridge.
Location: Renfrew, Ottawa Valley
Picnic Lunch: Renfrew has so many options for a delicious meal! Finnigan's Road House has an extensive menu and are known for their delicious French Onion Soup, steaks, and salads.
Not a natural waterfall, but fun all the same! This is a reconstructed original log chute on Byers Creek used by loggers in the early 1900s. There is a lovely picnic area here and some information on the history of the chute.
Location: Old Barry's Bay Road, Combermere
Picnic Lunch: Bent Anchor bar & Restaurant is your go-to for a pick-up picnic lunch or to lounge on a patio to soak up some sun. Try their house smoked chicken and pork dishes, including their "Smoked Baby Bent Ribs." Mmmm!
This waterfall is located on McNaughton's Creek in Foresters Falls (hence the name) and is just a short walk from the hamlet itself. To access the falls there is a trail leading to the falls just before the bridge in Foresters Falls.
Location: Foresters Falls, Ottawa Valley
Picnic Lunch: Whitewater Brewery in Cobden's seasonal menu has a focus on locally sourced ingredients, grown with love in the Ottawa Valley.