The best getaways are the ones where you share with your best friends – gazing up at the stars on a warm summer night, cozying up in front of a roaring bonfire, or enjoying a long hike, paddle, snowshoe or cross-country ski beneath towering trees.
Dogs really are man's best friend, they are there for us when we need them, always willing to have a cuddle, play a game of fetch, or just listen while we share our deepest secrets.
They're there for us 365 days a year, so why would we leave them behind for some of our biggest adventures? When you vacation in Ontario's Highlands, you don't have to! For your next getaway, bring along the family dog, and make your getaway even more special.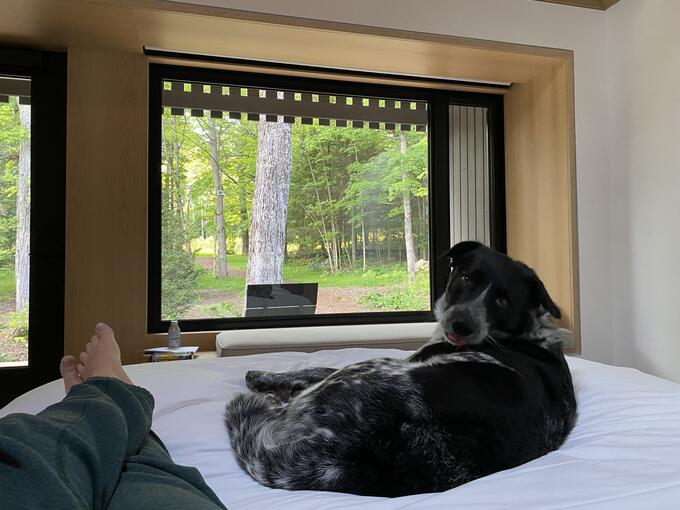 Calabogie Adventure – Somewhere Inn, Calabogie
This one is made for dogs of all sizes, but especially the kind who love the outdoors. Calabogie is a dog's paradise filled with water to swim in, trails to run on, and eateries to scrounge for tidbits. Somewhere Inn Calabogie welcomes its four-legged friends along with guests, and the rooms are spacious enough to accommodate even the largest breeds.

"Furriendly" Extras:
Bring your dog and he (or she) will be treated like canine royalty, getting their own bandana and dog treats to enjoy during their stay. They'll also love diving into Calabogie Lake or hiking one of the many trails in the area.
Dog-friendly with a View – Lakeview Motel, Haliburton
This cozy motel is tucked away in the woods of Haliburton and is the perfect spot for you and your pooch to have a wild getaway. Guests enjoy access to ATV and snowmobiling trails, hiking trails, and a breathtaking view of Grass Lake.

"Furriendly" Extras:
Give your dog some exercise on the three-kilometre hiking trail that's right on the property or access one of the adjacent trails for more variety.
This one is perfect for little dogs who like to be tucked into a purse and carried through boutique shops like those you'll find in the heritage town of Perth. Right in the heart of the downtown and backing onto the crown jewel of Perth, Stewart Park, is the Perth Best Western Parkside Inn & Spa, the perfect destination for relaxation and pampering as well as enjoying the company of your best friend.

"Furriendly" Extras:
Stewart Park is a beautiful greenspace bisected by the meandering Tay River and dogs are welcome there (on leash). After a stroll, a visit to Fiddleheads' or Laketown Beer Co.'s dog-friendly patios (in-season) will round out your visit here.
What dog doesn't love a romp in a forest? At Haliburton Forest & Wild Life Reserve your dog can stay and play in one fun spot. Haliburton Forest offers pet-friendly accommodations, including cabins or camping, but you can also bring your dog with you to swimming areas, on trails, and for outdoor picnic spaces.

"Furriendly" Extras:
Dog Paddles on the Rideau – Le Boat Vacations, Smiths Falls
This experience is one you and your (furry) family will remember for years to come. Rent a luxury houseboat cruiser from Le Boat and travel the Rideau Canal from Smiths Falls to Ottawa, or south to Kingston, or just tool around on the Big Rideau. Your dog will love jumping into the water whenever he likes!  

"Furriendly" Extras:
Just a couple of hours' cruise from Smiths Falls is Rideau Ferry, situated on the deep and vast Big Rideau Lake. Here, you can stop for supplies at the grocery store and LCBO, or visit CC's on the Rideau, which is also pet-friendly on their patio (in-season).
At H2H Cottage Co. in Haliburton they know that every getaway is made more special when you are able to bring along your best friend. Located on beautiful Little Kennisis Lake and Bitter Lake near Haliburton, you can expect a fabulous swimming spot for both human and pets, and an old fashioned cottage experience, but with all the bells and whistles we have come to expect in today's world.

"Furriendly" Extras:
Your pup will be greeted with treats and a special momento (their H2H Cottage dog bandanas are super cute! Only minutes from Haliburton Forest & Wild Life Reserve there will be no end of trails to take your furry friend for a long walk, all year long.
Pets Welcome at Dimensions Retreats - Haliburton Highlands
Dimensions Retreats understands that your pet is too important to be left behind while you enjoy a getaway. Expect your pet to be lavished with love and attention by staff and other guests. At Dimensions, they don't discriminate between pets (they also accept animals like guinea pigs or rabbits). If your family pet is not a dog, check ahead to see if you can bring them with! 
Pro tip: On a hot sunny day, your dog will love a dip in the lake, and time spent lounging on the patio with you at their side. 

"Furriendly" Extras:
Everything you will need for your dog will be waiting for you in your room, on arrival. Your pup will get its very own dog bed in your room, with a cozy blanket, along with dog treats, food and water bowls, and dog bags for you to clean up after your pet. If you are busy, they will even send someone to walk your dog for you! Puppy bliss.
Bonus:
Puppy Patio Bliss in Bancroft
When you're on the road finding a nice spot for a craft beer that welcomes pets can be challenging, but there are some great spots in Hastings County. Find pet-friendly patios (in-season) at Bancroft Brew Pub, Longtooth Beverage Co., and 7/62 Craft Brewers, all found in Hastings County. The Sword Motor Inn in Bancroft also welcomes pets and is a good place to put up your pooch overnight.