The beauty of Algonquin Park doesn't end at the South Gate. Close to the southern border of Algonquin Park, the area around Harcourt and Kennebec is a beautiful untamed region that attracts hundreds of visitors each year on their way through to Algonquin Park or to explore the area in its own right.
Here, the forests are vast, the lakes are deep, and the wilderness calls to you to come and explore. Whether you are staying in Algonquin Park near the South Gate, or love the area and want to explore more, there is plenty to keep you occupied in this neck of the woods.
Experience
Outdoor experiences in this region are plentiful, and no wonder – the area's beauty is the reason why Algonquin Park South Gate sites are among the most popular camping locations in Algonquin Park. If you are camping in Algonquin Park or just exploring the region and looking for a day trip, these excursions will be a nice way to get closer to nature.
Paddle Excursions
Deep Roots Adventure can help you launch your water adventure with one of their pre-booked experiences  like their Car Camping Package, or the popular High Falls Paddle, Explore & Dine. If you just want to rent a boat or Stand Up Paddleboard, they can take care of that for you, too!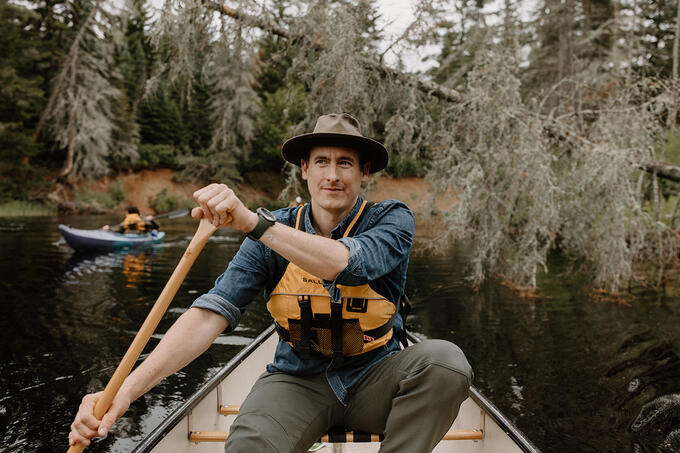 Horseback Trail Riding
Try horseback riding through the rugged wilderness of Haliburton Highlands with a guided trail ride with South Algonquin Trails. Book by the hour or by the ½ day or day for a guided experience where they provide everything you need (including the horse). They also offer overnight trail ride experiences, where you will enjoy a three-hour trail ride through Algonquin Park and then stay right at the lodge at the end of the day.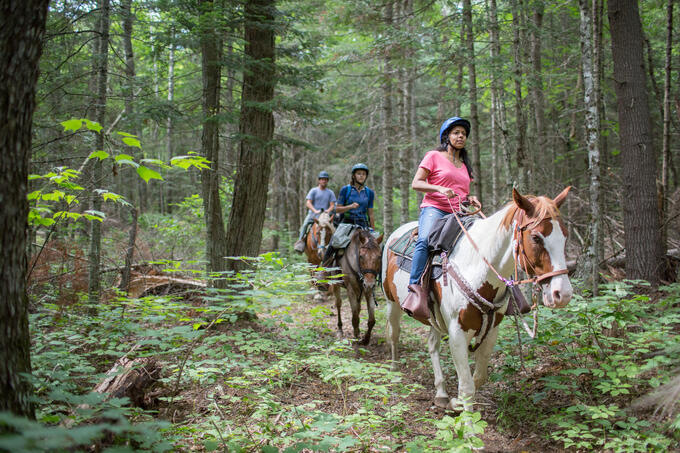 Disconnect
Have a spiritual experience with Spirit of the Waterfalls, delivered by Gaia's Den, a 74-acre property with a private creek leading to three waterfalls. Choose a two-hour guided experience that invite you to disconnect and reconnect with yourself and nature, together. If you're not into a guided experience but want a nature experience, you can wander on your own on the property (two-hour maximum, and admission by donation). Schedule your experience by calling 705.448.1346.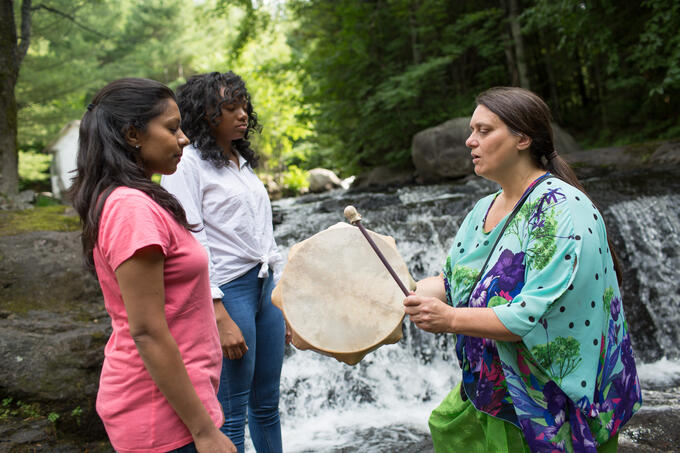 Sleep & Stay
At the end of the day you don't need to go home, extend your visit with one of these overnight accommodation options.
This cottage resort is a nature lover's destination. The shallow Elephant Lake means the shoreline and lake is home to a wide variety of species. Book one of their nine cottages and head out on the lake to try your hand at fishing, or relax on shore and watch the sunset over the water.
If you'd like a little more luxury, the Algonquin Eco-Lodge has the look and feel of a European mountain lodge, and is situated in some of the most beautiful wilderness in Haliburton Highlands. While you're there, book one of their Algonquin Park guided excursions.
Stay in one of this campground's four cottages or pitch your tent on a wilderness or serviced campsite. Group sites and water slips also available.
These cozy cabins will be just the place to lay your head after a horseback ride on one of the South Algonquin Trails.
Refuel
Isn't it true that food always tastes better when you're outdoors and pleasantly exhausted from a day spent being active? If you find your appetite is making a roaring appearance, pick up something hearty and delicious to refuel from these spots.
If you're looking for a burger that will almost be more than you can handle, this is where you'll find it. Bring your appetite, because you'll need it. This eatery is located at Harmony Resorts.
In this country store you'll find a little bit of everything to replace what you left behind. Check out their extensive wine selection, a pleasant surprise in this remote location