We've all been there - your alarm goes off first thing in the morning, you reach for your device, and immediately begin your over-consumption for the day. You're up and out the door in no time flat, but never without that nagging feeling of everything you need accomplish in the day. 
Don't get me wrong, I spend my fair share of time online. After all, I am a full-time nurse, teacher, and social media influencer. Spending time on electronics is kind of my thing. But that doesn't mean I too don't hit a breaking point. That's why, when I was offered the opportunity to experience Ontario's Highlands and completely disconnect from the outside world, I packed my bags and hit the road.
The Road to Somewhere New
I spent the day wandering the winding roads of the Highlands, taking in the picturesque views of lakes, innumerable to count. I stopped at roadside waterfalls, lookouts, and the Haliburton Sculpture Forest. Then collected some local goods from local breweries and bakeries before arriving at my destination late in the afternoon.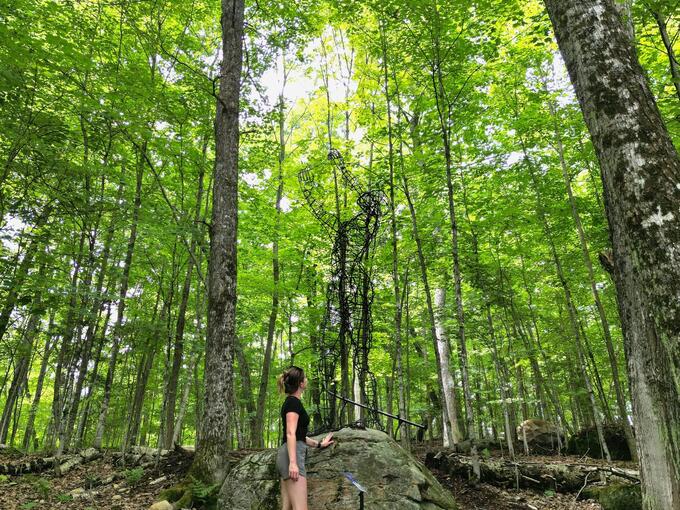 The sun was hanging high over the southern most tip of Algonquin Park, as I rounded the final bend on my journey. My music streaming service quit and that's when I noticed it – no cell phone service. Clearly panic set in. 
After all, I have work to do. I have content to upload. I knew I was setting out on a cellphone-free journey when I left the house but when those signal bars actually disappeared, it felt like culture shock. I quieted my uneasiness the best I could, parked my truck, gathered my gear, and set out on the 2.3km hike to the Algonquin Eco-Lodge.
With gear in hand, I traveled twenty-five minutes by foot. The forest was thick with the smell of a hot summer afternoon and before I knew it, a sound that I know all too well as an avid adventurer - running water. 
Before me flowed an impressive sixty-foot cascade. Atop the hill that lay beside it, I was greeted by a private lake with a panoramic dock adorned with a walkway across the water, Muskoka chairs, a hot tub and a large wooden lodge.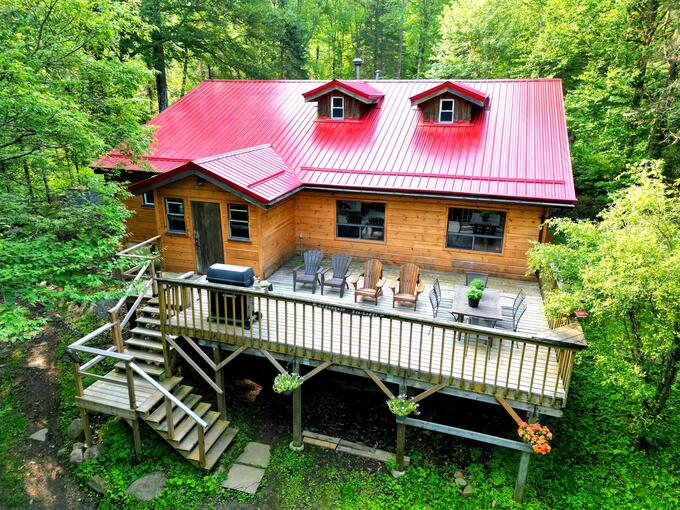 The owner of the lodge greeted me promptly and was quick to get me settled in, just in time for the comforts of a hot meal. Over dinner I heard stories of origin of this beautiful lodge which was originally used as winter accommodations for loggers without heat, hydro, or running water. 
Robin, a structural engineer turned wilderness guide, purchased the property and installed a micro-hydro generator in order to generate electricity from the very waterfall I had passed on my way in. He shared the history of the area and his journey in creating a wilderness experience for all to enjoy while minimizing impacts on the environment.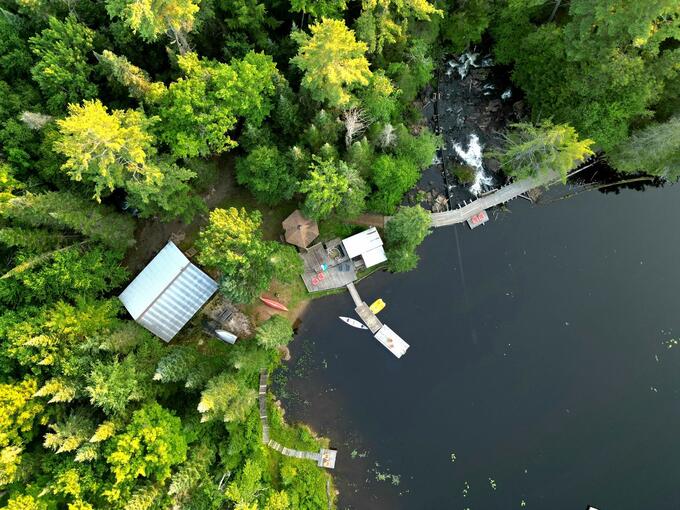 He told stories of his excursions in the area as a wilderness guide and lit up with pride as he shared what it has been like creating a haven in the woods, completely off-grid in the Algonquin forest without land lines or cell signals of any kind. 
The walls beside the kitchen displayed framed news articles and awards for sustainability and recognition for all that the Eco-Lodge has to offer. I felt as if I was tucked neatly away in the trees, safe from the stressors of the outside world and no one could find me. It was a true digital detox.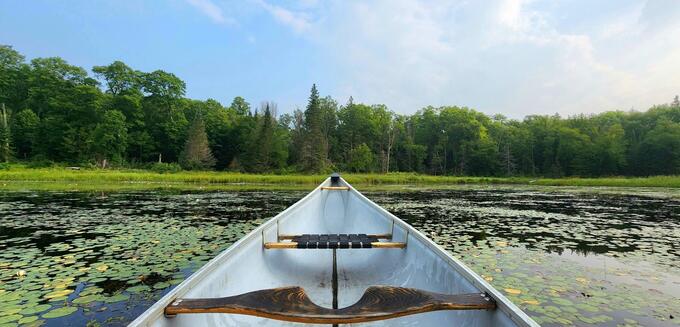 Slowing Down
I spent my time lazing in the carbon-neutral hot tub, paddling the private waters of Moffat Pond, swinging lazily in the hammock on Blueberry Point and admiring for once my ability to be slow. I came to terms with the fact that my social media was quiet, my content was not uploaded, and my work couldn't call me in for that overtime shift.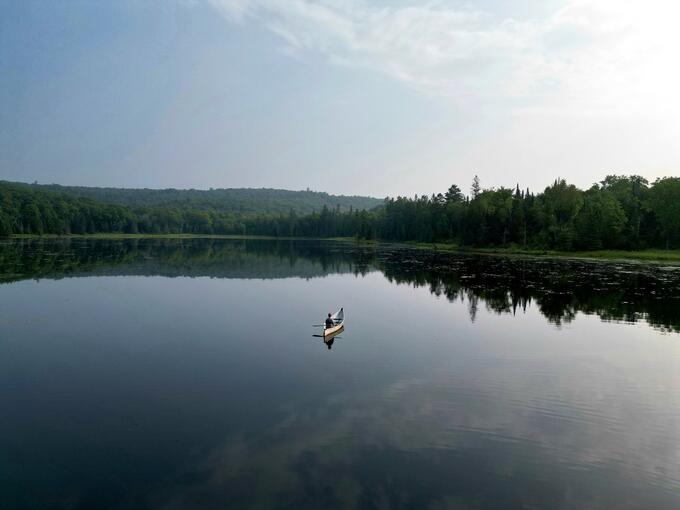 Instead, I fell asleep with my book open on my chest, listening to the first chirps of the crickets in the late July weather. I ate with appreciation and enjoyed the home cooked meals with Robin and his employees, where we laughed and shared stories instead of being disconnected from the company we kept. 
It was in these moments that I was reminded that to fully recharge, reconnect and experience nature we must allow ourselves the space to truly wander. And what better place than deep in the trees in Ontario's Highlands?