This content is part of the broader Our Connections campaign, and is intended to broaden the understanding of Indigenous peoples, their cultures, and their histories in Ontario's Highlands.
My connection to land began at a very early age.  I was fortunate to grow up on a beautiful farm that has been in my father's family for four generations.  My German great, great, grandfather, Ferdinand, settled in Eganville, a small town in the Ottawa Valley.
When you first turn into the almost kilometer-long driveway you are immediately surrounded by what was once a wet cedar swamp.  The old cedar swamp turns to thickets of red willow and then to log fences and farmer's fields.  As the driveway continues you approach the first house on the property.
I grew up in this house with my parents, Mark and Alanna and my brother Bailey.  The driveway then takes a sharp turn that opens up into a barnyard with log barns and outbuildings.  At the end of the lane is the original homestead.  This is where my grandparents lived along with their grandparents before them.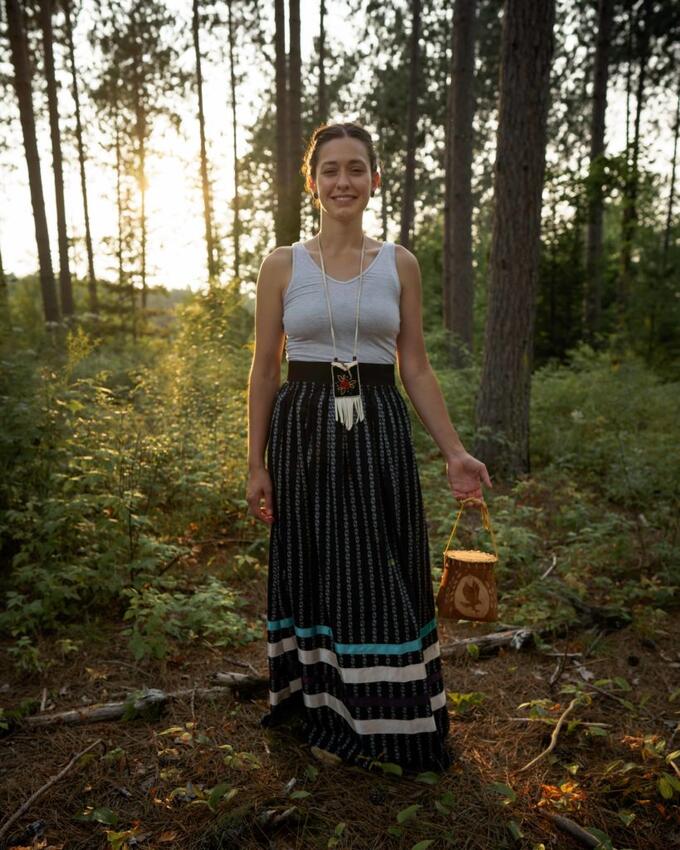 In the distance, there is a maple bush, a pond and small bushes of birch, basswood, fir and pine. As a child, I spent a lot of time exploring the land around me, especially during the fall.  My father's family loves to hunt.
For as long as I can remember I would take time off school to hunt with my family.  I harvested my first whitetail deer when I was 12 years old.  Since then, hunting has played an integral role in my life.
On my mother's side, I am Algonquin Anishinabek, an original inhabitant of Turtle Island, known today as North America. The traditional homelands of the Algonquin people are the Kitchissippi watershed, presently called the Ottawa River.
My community, the Algonquins of Pikwàkanagàn First Nation, is located on the shores of Golden Lake and the Bonnechere River, approximately 15 minutes from where I grew up. I didn't grow up immersed in Algonquin culture and because of this I spent a lot of years very disconnected from my identity.
In the summer of 2019, at the age of 25, I began my reclamation journey through powwow dancing.  As I re-established my connection to culture, my relationship with the land deepened.
In the fall of 2019, I harvested my first moose with my grandparents, Stash and Helen and my brother Bailey.
We are very thankful for the moose as it will provide food security for the winter.  After the harvest we offer our tobacco.  Tobacco is a traditional medicine that is used to connect with spirit and as a means to give thanks.
For a brief moment, I can see into the past.  I can feel my ancestors watching over me.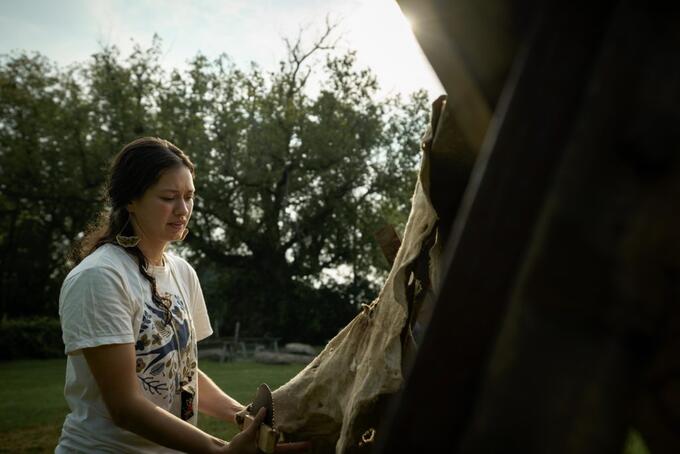 My grandpa Stash is a changemaker.  He fought hard for Algonquin hunting and fishing rights when the government told us we weren't allowed to exercise our traditional way of life.  It was in that moment that I knew I had an opportunity to be a changemaker too.
I wanted to honor the moose the best way I knew how, using as much of the animal as possible, like my ancestors did before me.  And so, my journey to reclaiming the art of traditional hide tanning began.
In a time where it feels like we are so disconnected, I am looking to the future by bringing back the past.  I often think about my ancestors before first contact, living a nomadic lifestyle reliant on the seasons and food sources to survive.
Living in harmony with the land; hunting, fishing, trapping and gathering plants and medicines. The land provided us with gifts for survival and in exchange we took care of it. A relationship based on reciprocity, an equal amount of give and take.
Due to the effects of colonization, a lot of Algonquin language, traditions and customs were lost.  The practice of traditional hide tanning has been lost in my family for three generations.  My grandmother remembers her grandfather Matt soaking hides in the lake.  Revitalizing this practice without firsthand guidance is not an easy task.
Most of the work I have done has been through trial-and-error.  I have endured hard lessons in humility, patience and determination.  Nonetheless, this journey has been medicine for my spirit. Hide tanning provides many gifts and keeps me inspired; inspired to learn and grow.
Even though I am very much a beginner, it feels like I have a responsibility to share what I have learned with others.  Most importantly, revitalizing this practice reminds the land that we are still here.
Chi Miigwech.
-