Friendly guides, rolling rivers, picturesque wilderness, and sometimes a bit of a chill; we think whitewater rafting is a truly Canadian experience (and we won't be making any apologies for it).
Imagine piling into a raft with friends and family, laughter filling the air as you soar over roaring rapids; dip, twist, and turn around bends and crooks; and feel the cool spray of water against your sun-warmed skin. Renowned as the Whitewater Capital of Canada, the Ottawa Valley doesn't discriminate against less seasoned paddlers, and offers experiences for every type of traveler. So climb aboard, dip your paddle, or simply float in your tube and get ready to embrace some whitewater fun.
Climb into a 12 person raft and spend two days paddling, splashing, and rolling down one of the world's great whitewater routes as you immerse yourself in paddling culture during a full Adventure Raft Package with OWL Rafting on the Ottawa River. Enjoy the chance to head back to camp and breathe in the delicious scent of open air grilling; bump and dive during beach volleyball; hear laughter fill the night sky during the fireside programming; and soak any aches away during a hot sauna.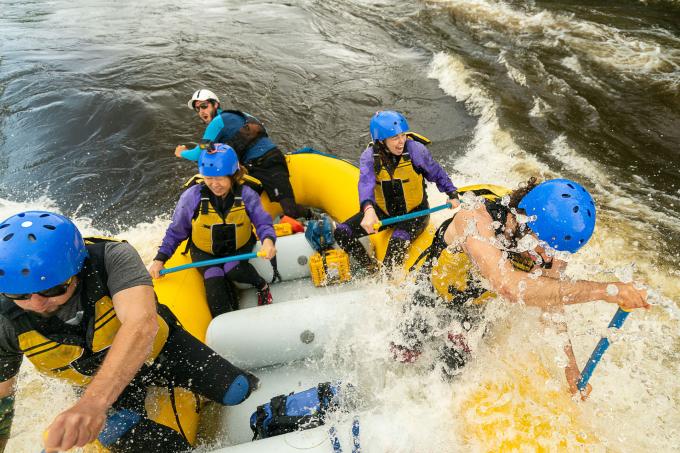 Insider's Tip:
Give your 'sea legs' a rest and take a break from paddling, to pedal the backroads and countryside of the Ottawa Valley by booking a tour with Valley Cycle Tours.
Ever play Rock 'Em Sock 'Em Robots? The Sport Rafting Program is kind of like that, except instead of mini robots you can control, you're the one being rocked, socked, and dipped as you make your way down the roaring Ottawa River, paddling hard and feeling every single wave and ripple along the way in your 6-person raft (ok, maybe it's not like the game after all). Affectionately known as The Flip Trip, the knowledgeable Wilderness Tours guides who lead you on this safe, invigorating, cruise down the river guarantee you will get wet.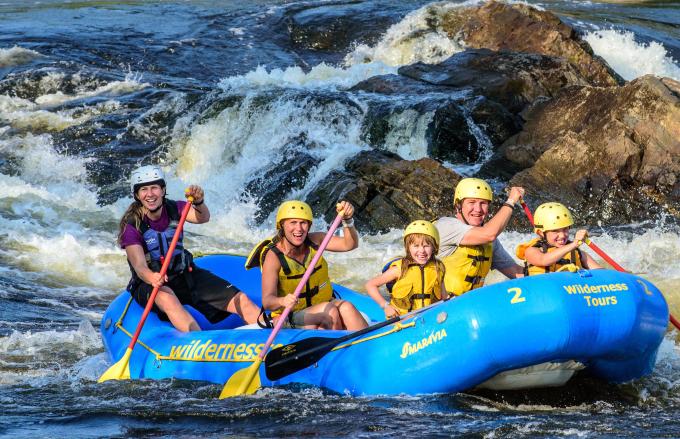 Insider's Tip:
When we say you'll get wet, we're not lying. So pack a dry set of clothes to leave on land so you can comfortably enjoy any après-raft activities, like a local brew at Whitewater Brewing Company.
Huddling together in a boat as a guide steers you over tumbling whitewater and navigates down five kilometers of river – resulting in excited screams and plenty of laughs – certainly has a way of bringing a family closer together. With Madawaska Kanu Centre (MKC) being family created, owned, and operated since 1972, they truly understand the importance of family and their two-hour guided trip is suitable for ages two and above. Get your heart racing together and watch your children's faces light up with each exciting dip and curve.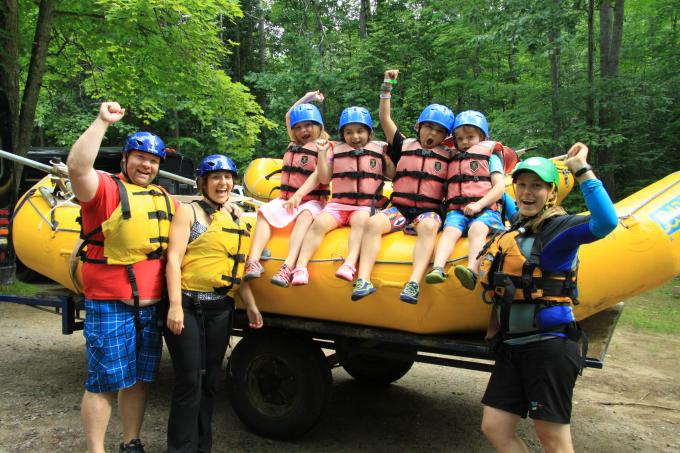 Insider's Tip:
Fresh air and sunshine have a way of bringing out an appetite and luckily MKC is FeastON certified, so you can refuel and avoid any hangry family moments with delicious, hearty, and locally-sourced meals.