Are you the type to pull over when you see a comically large roadside attraction, or a picture-perfect spot to snap a few shots? Amateur photographers and Instagrammers alike can agree that a giant ice cream cone, a massive mural adorning the side of a building, or a full-size replica of a jet plane are all solid reasons to pull over.
Next time you're out on the road, seek out these spots that come highly recommended for taking amazing photos, either for your next profile pic or to serve as proof that you really did find a giant slab of cheese from the 1800s.
Mammoth Cheese - Perth
Located in the heart of Perth, this giant cheese dates back to 1893, when 12 local farmers got together to make a 1000 kg block of real cheese for a fair exhibition in Chicago. You'll be happy to know the vessel on display does not actually contain any 127-year-old cheese, but a small portion of the original product is on display at the Perth Museum nearby. There's no better way to pay tribute to the ambitious dairy farmers of yesteryear than to pick up a "charcut-a-cone" from the Perth Cheese Shop to nibble at while you marvel at the sheer size of the Mammoth Cheese.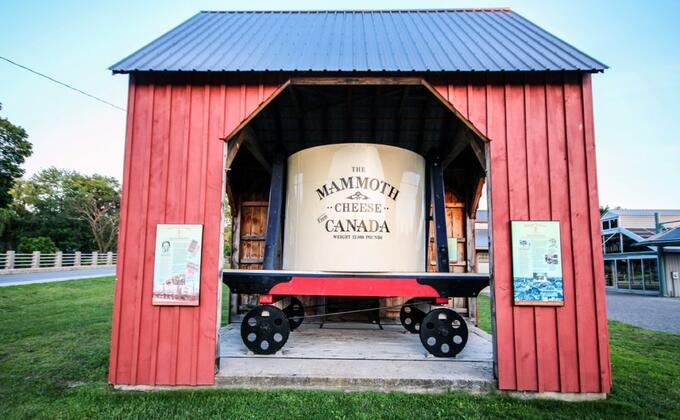 Minden River Cone - Haliburton
Oddly enough, that's not our only giant tribute to dairy in Ontario's Highlands. On the opposite side of the region, the Minden River Cone ice cream stand is shaped as an enormous soft serve ice cream cone. Experience ice-cream-inception as you have a regular sized cone handed to you from within a jumbo version.
One Chic Chicken – Tweed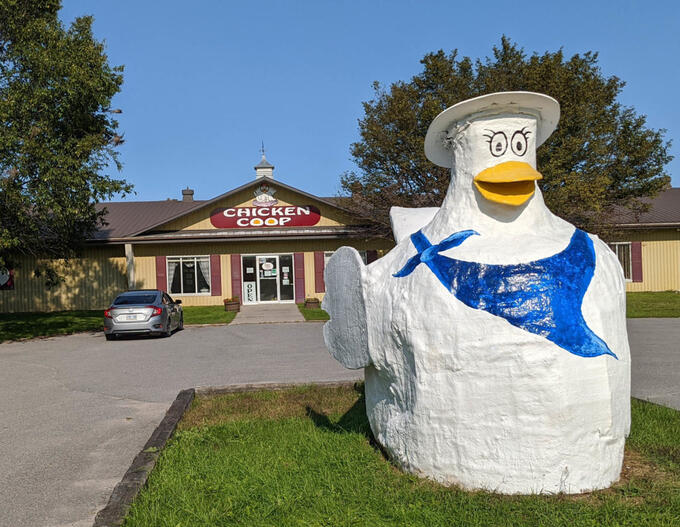 You might do a double take while cruising down Highway 37 between Highway 7 and Tweed when you pass by Drain Poultry Farm. Yes, that's a giant hen perched in their parking lot. Pull over to grab a pic as well as some farm fresh eggs from the Chicken Coop store.
Avro Arrow – Barry's Bay
Anyone with an interest in aviation or a simple appreciation of really cool looking planes will be yelling at the driver to pull over in Barry's Bay. Right on Highway 60 sits a tribute to the Canadian-made Avro Arrow and the pilot who took it on its first flight, Janusz Zurakowski. A statue of hometown hero "Zura" looks on as the replica jet takes flight.
Planes, Trains, From Your Automobile - Haliburton
In Haliburton, another historic Avro aircraft, the CF-100 Canuck, is on display in a park just beyond the main strip. Known as "The Clunk", this model was the first fully Canadian-designed and built plane. In the same park you'll see a restored Canadian National Railway engine from the early 1900s which was presented to the local Rotary Club in 1960.
Railway Heritage Park – Sharbot Lake
Railway buffs will also appreciate a stop at the open-air Railway Heritage Park along the K&P Trail in Sharbot Lake. You can take some shots of a CN Caboose, or have your photo taken in the cut-out to make yourself look like a train conductor, complete with a spiffy hat.
Water Towers – Smiths Falls and Perth
Water towers do more than just tell you what town you're in. Sometimes they're set against a beautiful backdrop and make for a wonderful place to take photos. Take for example the Smiths Falls water tower, which overlooks Centennial Park on the banks of the Rideau River. In Perth, the scenic water tower can be spotted from the Tay Canal, historic Gore Street East, as well as Stewart Park.
Magnificent Murals – Multiple
The entire city of Pembroke is peppered with larger-than-life murals depicting the area's rich character and heritage. Three Lanark towns, Carleton Place, Almonte, and Perth all have their own signature paintings too, like a tribute to the local captain who shot down the Red Baron in Carleton Place. This summer a new, gorgeous mural was painted on the side of Hook, Line & Sinker in Haliburton by the Turtle Guardians, to raise awareness of the work they do to protect Ontario's turtle population.