Ontario's Highlands is made for fall riding – here, the winding roads cut through hilly and rugged backcountry, crowded with colourful foliage in vibrant shades of reds, oranges, and yellows. 
This year marks Ontario's Highlands' 10th anniversary of Ride the Highlands, a compilation of curated motorcycle routes and resources taking riders through the adrenalin-pumping hills and valleys of Ontario's Highlands, and there has literally never been a better time to get out on the roads.
Embrace the riding season's last gasp with a final autumn ride guaranteed for fantastic views. Ride the Highlands offers the best roads to ride, including epic lookout stops, places for a bite to eat and where to spend the night – all motorcycle friendly. It's time to layer up and get ready to ride.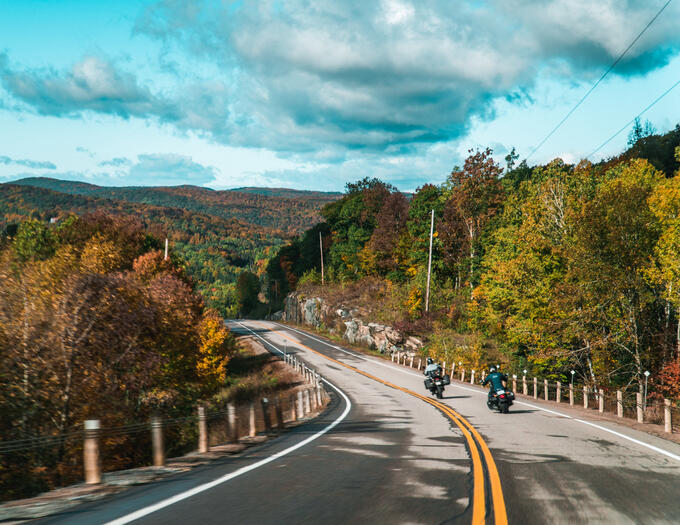 Distance: 278 km
Area: Haliburton Highlands and Algonquin Park
The Ride the Highlands fall motorcycle loop was created to bring riders through some of the most colourful scenery in Ontario to really bask in the season. The loop takes you through the southern portion of Algonquin Park, known for its big show of vibrant autumn. Plan your rest stops to visit Dorset Lookout Tower in Dorset, Oxtongue River Ragged Falls Provincial Park in Dwight, and Skyline Park in Haliburton. Bring your camera to capture the stunning autumn vistas. 
Pro tip: Do this route counter-clockwise to avoid traffic through Algonquin Park. 

Refuel and Rest:
You will pass so many inviting spots to brake for a bite to eat and stretch your legs. Some good ones are Rhubarb Restaurant and Boshkung Brewing Co. in Carnarvon or pick up some takeout for a picnic stop from AM/PM Gourmet in Harcourt. Cool down with a scoop (or two) of ice cream from the Scooped Moose in Lake St. Peter.  
Distance: 1,000 km
Area: Ontario's Highlands
Oh the sights you will see on the Highlands Loop! This epic ride is a great way to explore the entire region and watch the colours change as you transition from east to west and north to south. Expect to encounter plenty of small towns to stop and explore along the way. We recommend taking three days to complete this loop so you can experience and savour every moment of fall in this beautiful part of Ontario. 

Refuel and Rest:
Distance: 370 km
Area: Ottawa Valley
Brand new for 2023, the Pick-Axe Adventure Route is an opportunity for riders with adventure bikes to really dig into the prime motorcycle terrain of the Ottawa Valley. This is a mostly gravel route which can add an extra layer of excitement to your ride and literally let you experience the road less traveled. Get a bird's eye view of the region in fall with a chair lift ride to the top of Calabogie Peaks or bring the camera for a hike at Bonnechere Provincial Park.

Refuel and Rest: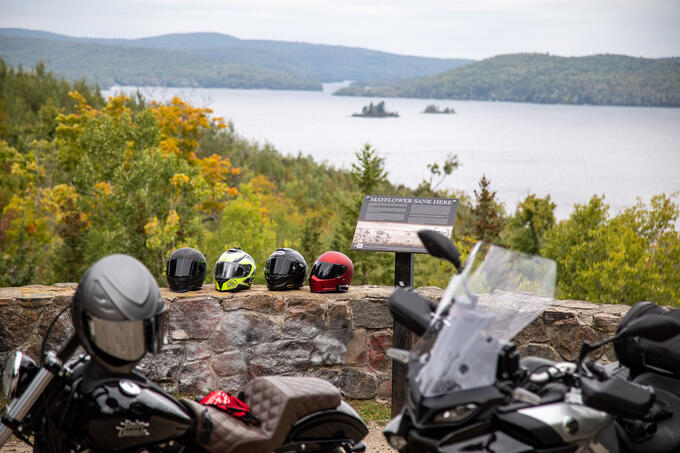 If you're short on time and are looking for a quick trip to Ontario's Highland, take a look at these other routes that will still guarantee you fabulous views along the way:
Are you ready to ride? Order your Ride the Highlands map and start planning your route today. Visit the Ride the Highlands website for more information about routes, loops, and motorcycle-friendly attractions and accommodations. 
 
10th Anniversary Ride the Highlands Photo Contest
To celebrate 10 years of Ride the Highlands, we've launched our RTH Photo Contest. Enter a photo of your 2023 Ride the Highlands trip for a chance to win. Our motorcycle businesses rock and many have donated epic prizes. Click the link below to learn more and enter the contest. Draws for prize packages will be taking place Friday, October 13th, 2023.