Living in a downtown apartment overlooking the CN Tower has it benefits: the city is literally at your doorstep. However, it certainly has it drawbacks as well. Lately, to distract ourselves from the hustle and bustle of life, my boyfriend and I have been dreaming up a 'To Do List'; planning road trips, researching hikes, reading restaurant reviews and drafting itineraries.
The one thing my boyfriend and I both want to check off our bucket lists is embarking on an overnight paddling trip. There is something to be said about pushing off from land with map in hand and all your possessions in the kayak or canoe that you paddle to your destination on your own merits.
So, as with any challenge presented to an A-type personality, I immediately set out to find a solution. Surprisingly, it didn't take long. Turns out there are plenty of paddling experiences in Ontario's Highlands that require little planning on our end. You just show up with your sense of adventure and everything else is looked after.
To support others suffering from the constraints of having big adventure plans while living in a small condo, here are some experiences you might want to check out.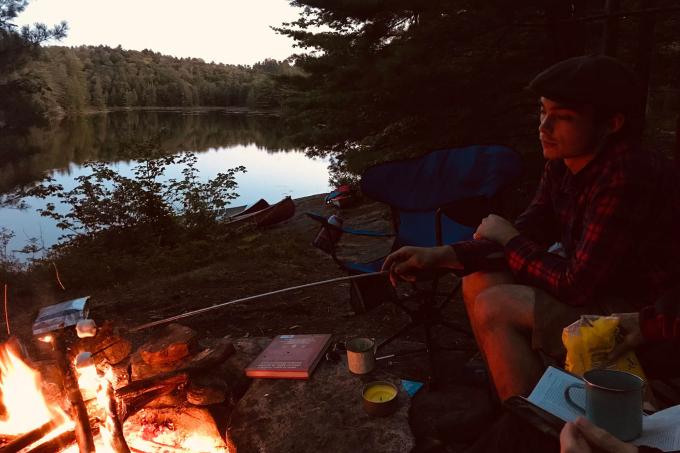 This is the one that has stolen our hearts! Cruising Canoes offers all-inclusive guided backcountry trips. Don't be fooled by the name as you can choose your preference and paddle either a canoe or a kayak. Head off into the beautiful remote Canadian landscape that will take your breath away; both literally and figuratively.
The trips are supposed to be both challenging and extremely rewarding. Unplug from technology, escape everyday life, and recharge your mind and body. You don't have to plan much, just pack a change of clothes, a water bottle, and show up! Twiggy (who it's worth mentioning has been a dream to book with) will take care of the rest.
Take your paddling adventure to the next level with a whitewater canoeing or kayaking course. Learn basic strokes, reading the water, navigating currents and rolling. By the end of the weekend you'll be paddling Class II rapids. After a day on the water, you'll enjoy MKC's on site accommodations and gourmet meals.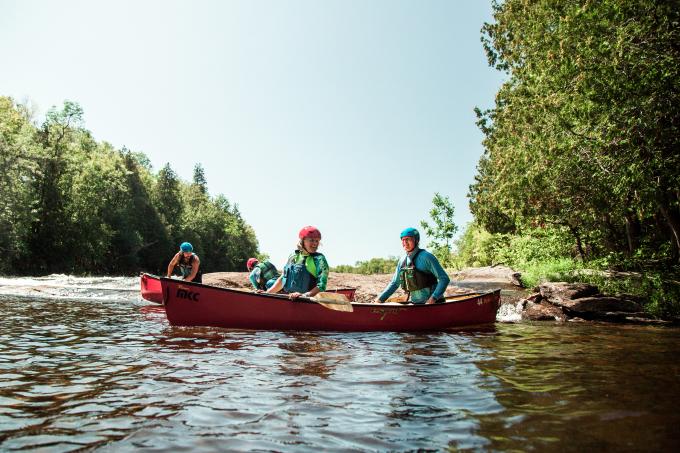 If overnight adventures aren't your thing, this is the trip for you! As early morning mist rises off the lake, you'll set off to carve a paddle through four different lakes, portaging your canoe through the lush back country of #MyHaliburtonHighlands and will finish the day off by visiting a birch bark canoe builder to check out his latest project.
Whitewater Rafting
This one is for those of you looking for a true adrenaline rush. The rafts are a bit different than a canoe or kayak, but whether you are in a six or twelve person raft, the mighty Ottawa River doesn't disappoint. It will splash and swill you through an afternoon of rumbling and tumbling, accented by shrieks and laughter. At the end of the day, try your hand at a round of Disk Golf with your newly made rafting friends, on the 9-hole Frisbee golf course at the OWL Rafting Resort.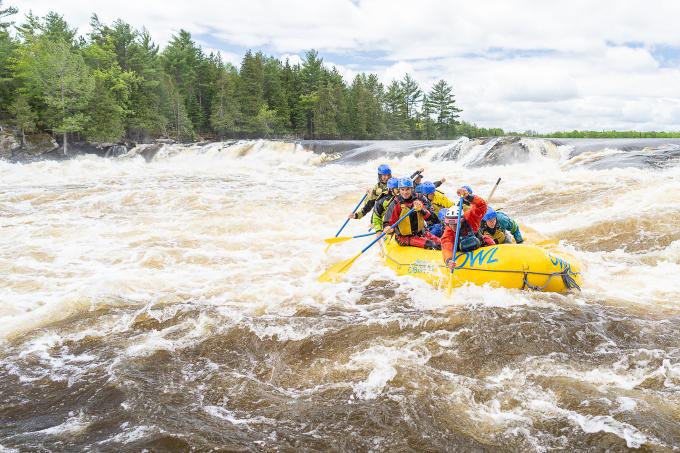 No doubt there are some of you that are a bit more experienced than we are, and in that case, all you have to do is call up the folks at local outfitters, rent your water vehicle of choice and take off on your own adventure!
I cannot remember the last time I was in a kayak or a canoe, but I am really looking forward to embracing my Canadian roots this summer and am thrilled that it is easier than ever to explore Ontario's bountiful waterways. Eliminating the stress of wondering if I packed the right gear or whether the boat is strapped properly to the top of our Fiat (could you imagine?) allows us to just show up and enjoy our adventure.