Spending time on the water gives the world an almost magical feel. The minutes drift past at the pace of the current around you, and the sun slows the passage of time to a trickle. You are hyper-aware; you are present.
Brand new this summer, the Ontario Water Trail invites you to experience what is so awesome about spending time on the water in three different ways. You can paddle the Madawaska River, raft the Ottawa River, or cruise the Rideau Canal. It's three unique experiences that speak to the water creature inside all of us.
Rejoice in summer and the beauty of the waterways we have right here in Ontario's Highlands. Book one (or all) of these experiences today and let your summer be all you dream it can be. On the water.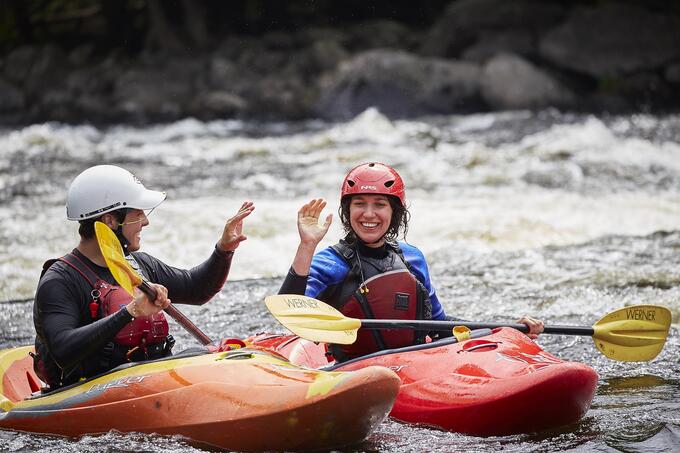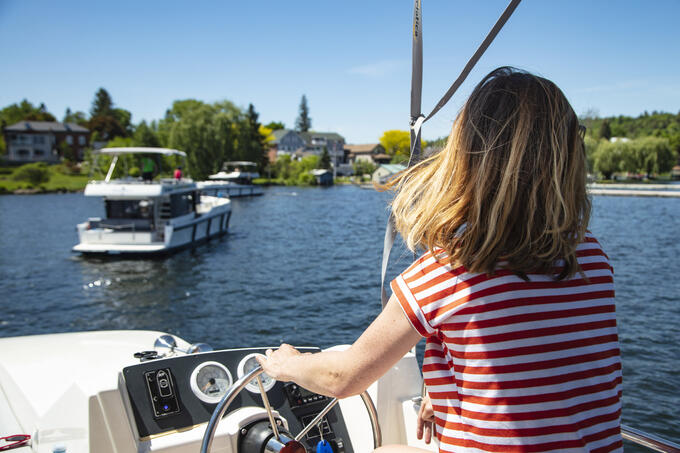 Learn to Paddle
Whether you're a novice canoeist or kayaker or are already rolling your kayak like a boss, you'll come away richer for the experience at Madawaska Kanu Centre (MKC). These folks are experts at helping people expand and develop their paddling skills and will have you cruising the river like a pro no matter your skill level. If you're more into rafting, you can also choose one of their fun rafting trips for high octane adventure for the whole family.
Sign up for one of their weekend or longer courses and spend your days on one of the most beautiful waterways in Ontario, the Madawaska River, paddling, splashing, and generally having an amazing time. At night, retire to a home cooked meal at MKC's lodge, then spend the night in a cabin or campsite only to get up with the sun the next morning and do it all over again.

Insider's Tips:
Bring lots of sunscreen and some snacks because being on the water all day really builds an appetite. Don't worry, calories don't count when you're on the water!
We recommend MKC's all in one meal package otherwise you'll be spending all your time drooling over the meals everyone else is enjoying (and that's no fun).
Raft the Rapids
The Ottawa River is known as one of the world class whitewater destinations in the world, with rapids that vary from Class I to Class IV. Most of these rapids have fun names, like the 'white-faced monster' or the 'bus eater' (hint the bus eater is one that comes by its name honestly – in the spring thaw the rapids are big enough to swallow a bus!)
On the mighty Ottawa River, OWL Rafting puts you in the hands of their experienced guides to raft the rapids and come out the other side a winner. This can be high adrenalin adventure, but it doesn't have to be! You can choose your thrill level to suit your, and your family's, needs. They offer multiple packages with everything from a gentle, relaxing raft trip to an experience that will ensure you get wet (over and over again).
When the rafting is over you don't have to go home, you can spend the night in their on-site camping facilities or cabins. Play, sleep, then play some more!

Insider's Tips:
We can't say this enough – bring lots of sunscreen and make sure it's waterproof!
Bring a deck of cards to play with in the evenings under the stars or while you listen to live music (Saturday nights).
We recommend trying the sport yaking if you don't mind getting wet and want to be in control of your own boat. So much fun!
Captain a Yacht with Le Boat
What better way to celebrate summer in Canada than on Ontario's only UNESCO World Heritage Site, the Rideau Canal? Le Boat rents luxury houseboat cruisers that you can use to cruise the canal from Smiths Falls north to Ottawa or south to Kingston. You can also detour off the Rideau onto the Tay River to reach Perth.
This is the perfect vacation to bring the whole family, and Le Boat's cruisers accommodate groups of two to up to 12. This is like a cottage experience, only one where you get to see different parts of the waterway every day. Luxury compartments mean each cabin has its own bath and shower, and there's plenty of power. If you try to book for 2021 and you can't find a date that works for your group, no worries, that's what 2022 is for!

Insider's Tips: